Frequent misconceptions of patients about the treatment of varicose veins of the lower extremities
Contents:
What do patients think about new treatments for varicose veins?
Until now, despite the widespread use of laser and other endovenous techniques of thermal obliteration, physicians of most specialties (especially surgeons operating in an open way) have a bias against this procedure. These misconceptions lead to misinformation of the patient who turned to such a doctor, as a result of which this skepticism is transmitted to the patient, who is sent instead of a low-traumatic and cosmetic laser procedure for an open operation under anesthesia.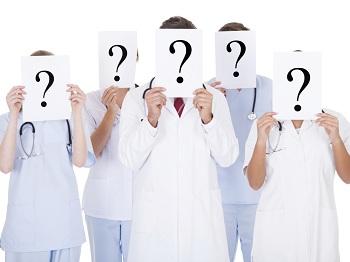 Most often, these misconceptions come from the lack of personal experience with laser equipment (most of the information is obtained from "third", the same incompetent persons), as well as the absence of real patients treated with laser equipment and monitoring them. That is, all problems stem from the lack of simple educational literature, although there are a huge number of scientific articles on the Internet (mainly in the foreign press) on this issue. Let us consider in more detail why this happens, namely the main delusions of doctors.
The first misconception is that the classical operation is more reliable than laser:
Why do many patients believe that open surgery is safer than laser surgery? Surgeons of the "old school" have a saying "a vein in the hand (ie pulled out of the body) is never recanalized. Yes, indeed, the removed fragments of the vein cannot be restored, nevertheless, for example, in the zone of the sapheno-femoral anastomosis, neovasculogenesis (growth of neovascular vessels) is possible within 5-10 years after the surgery, leading to the reappearance of varicose veins - the truth is, surgeons do not love to tell very much.
Reality: the reliability of laser surgery (subject to the technology and the experience of the surgeon) is currently approaching 100%. This became possible due to the accumulation of significant experience in the use of these technologies and the continuous improvement of laser technology. Currently, the most "advanced" are water-absorbing laser devices (with a wavelength of 1470 or 1530 nm) in combination with the use of a radial type of optical fibers (which shine "around" the tip of the optical fiber, and not forward, like the end type) (* I would like to note that in our clinic we work ONLY on the latest and most modern equipment). The use of modern equipment and technologies leads to high-quality and safe damage to the venous wall from the inside, as a result of which a patient affected by varicose veins is completely "welded" and blood flow through it is blocked. What happens to the vein after that? Within about 6 months, the vein turns into a thin connective tissue cord, indistinguishable by ultrasound from the surrounding tissues (tissue and structures of the superficial fascia). No ultrasound specialist will be able to locate a laser operated vein 1 year after surgery.
The second misconception is that the laser operation is expensive, and the traditional intervention is free:
For some reason, it is believed that laser surgery is unavailably expensive, and simple surgical intervention is done for free and with a quota.
Reality: remember how much time, effort and nerves you need to spend in order to receive a quota from the state for a free in quotes operation, how many doctors you need to visit and take tests. It is not known which doctor you will go to after. It is definitely unlikely that you will find yourself with an eminent surgeon who will do everything well, most likely, you will be operated on by a novice specialist, at best - a doctor of average skill.
Currently, taking into account summer discounts, one-leg surgery in our center costs 47600 rubles. You will be operated on by doctors with vast experience of thousands of such interventions using the most modern equipment. After the operation, you will have access to a free annual follow-up, including all types of consultations and studies available at the clinic.
How is the laser operation in our phlebology center?
Currently, the modern development of technology and the experience of our clinic allows us to perform laser treatment of varicose veins in patients of ANY degree of complexity.
For laser surgery, anesthesia is NOT required - all manipulations are performed under local anesthesia, as, for example, during dental treatment.
During laser surgery, there is no need to make incisions (in our operating room there is not even a scalpel) - all manipulations are performed from separate skin punctures with an 18G needle.
After the operation, no stitches are applied (because there are no incisions) and accordingly, they do not need to be removed.
The time of the standard operation on the 2 legs in most cases does not exceed 2 hours.
You can go home IMMEDIATELY after the operation - no need for additional supervision is required (* there are some restrictions on driving on this day)
No special rehabilitation is required - the doctor will ask you to come the next day for a dressing. In the future, you visit your attending phlebologist after 1, 3, 6 and 12 months (* in case of ANY non-standard situations related to the operation, you can come to the center for an unscheduled examination, ask any question you are interested in and get a full consultation)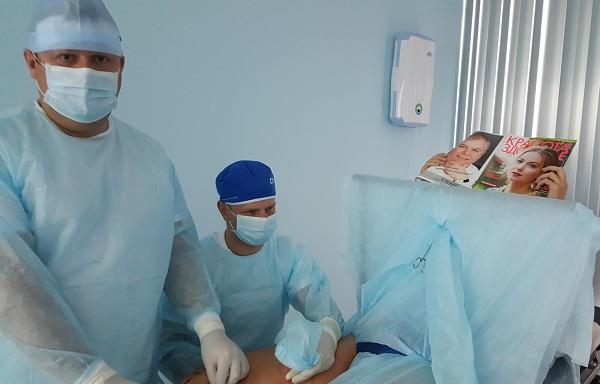 The patient reads a magazine during a laser procedure
You can ask any question on the site www.phlebolog.org write to e-mail This e-mail address is protected from spam bots. You need JavaScript enabled to view. or call +7 (495) 641-62-70
Questions that patients most often ask at a phlebologist consultation
The doctor at the clinic said that surgical removal of veins is more reliable than a laser. Is it so?
Modern medical research has proven that endovenous laser obliteration is just as effective in removing varicose veins as surgery. Moreover, the laser allows more accurate and even jewelry to remove pathologically altered veins. The minimal trauma of endovascular interventions allows avoiding both complications and relapses of varicose veins, which cannot be said about classical vein surgery.
Laser treatment of varicose veins is very expensive. Wouldn't it be better to have a routine operation in a hospital?
The prices for endovascular laser interventions are not sky-high today. An ordinary person with an average income can easily afford modern laser treatment of varicose veins. The costs of concomitant treatment in classic vein surgery often exceed the cost of innovative laser intervention.
I was told that my veins were not suitable for laser treatment and was offered a routine operation. What do you think about this?
This is what they usually say in those hospitals where they do not know endovasal technologies or have insufficient experience in laser interventions. For an experienced endovascular surgeon, vein diameter and other anatomical nuances have not been a significant problem for a long time.
Today the laser is fashionable, but is it so effective?
Yes, today laser endovascular interventions, in their modern version, are the latest trend in the treatment of varicose veins. And this situation is not just a trend, but a statement of the fact that there is simply nothing better and more effective than a laser for the treatment of varicose veins today.
Do you use only modern methods of treating varicose veins?
At the Moscow City Phlebology Center, we use only the best modern methods and technologies for the treatment of varicose veins. We closely monitor the emergence of new ways to solve problems with venous vessels and choose only those that will most effectively help our patients.