The treatment methods for varicose veins that we use in our phlebology center
What methods of treatment for varicose veins are used today in Moscow and Russia? Why do some centers treat varicose veins in the old fashion by "pulling out veins" under anesthesia, while others use the most modern treatment methods - without incisions, scars, and without anesthesia or spinal anesthesia? What is the fundamental difference in the treatment of varicose veins in these clinics? And what is in the arsenal of phlebologists of our innovation center? Let's try to answer these questions together. So:
Contents:

The results of the application of various methods of treatment of varicose veins. Photos before and after treatment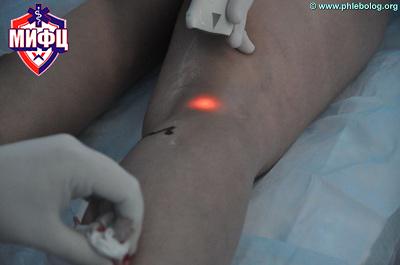 Treatment of varicose veins with a laser in Moscow at the MIFTS Clinic
What is the difference between phlebology centers in Russia
Although the treatment of varicose veins in Moscow and treatment of leg varicose in other regions of Russia is still very different. This is due primarily to the availability in the clinic of expensive diagnostic equipment, imported generators for endovascular interventions, such as, laser treatment of varicose veins and the treatment of varicose with radio frequency. Well and the most important thing is a presence in clinic competent, skilled experts who could spend innovative treatment of varices. After all, to understand the intricacies and nuances of the architectonics of the vessels of the lower limbs can be quite difficult, especially when the patient's veins are completely changed. A specialist who is not confidently using ultrasound diagnostics, or has done insufficient endovascular interventions, can only do harm. Therefore, it is very important to find not only a good clinic, but also the best specialist in the field of treatment of varicose veins.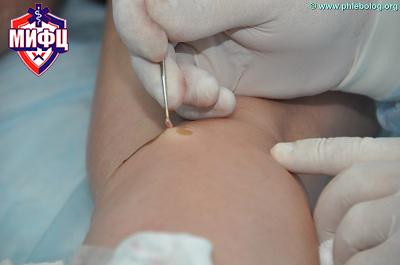 Treatment of varicose veins without incisions and without scars by the method of Varadi
The treatment of varicose veins has not always been the prerogative of vascular surgeons. Even now, treatment of varicose veins in the legs in Moscow can be carried out in the departments of general surgery. This does not mean that surgical treatment of varicose veins is bad. Many venerable surgeons perfectly perform the traditional operation - a combined phlebectomy under general anesthesia, from small incisions in the groin, on the lower leg and ankle, they draw out a varicose vein using a special metal probe. They get excellent results and will do this intervention for the rest of their lives.
What non-surgical methods of treatment of varicose veins are used in our clinic
In our "MIFTS" center, phlebology surgeons conduct only the most advanced treatment for varicose veins - Biolitec® EAVL, or Venefit ™ varicosity treatment. We abandoned traditional phlebectomy many years ago when we received good long-term results after endovascular methods of treating varicose veins. It does not matter which way the doctor will suggest to you during the consultation. Whether it is treatment of varicose EVLO or treatment of varicose RFA. Our specialists will successfully perform laser treatment of varicose veins and radio frequency. The main thing is your desire to be healthy and get rid of varicose veins forever.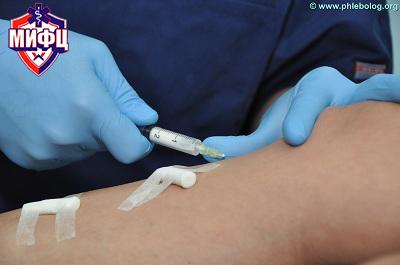 Micropenna treatment of varicose veins by the Foam-Form method of sclerotherapy
Another non-surgical treatment for varicose, which appeared in the middle of the XX century, is called compression sclerotherapy. Currently, this method of treatment of varicose without surgery has significantly changed and is conducted by phlebologists of our center with the help of foam form of sclerosant Foam-form with CO2 gas. The results of treatment of varicose veins in this way and reviews about it you can read on our website. A feedback on the treatment of varicose veins or reviews of the treatment of varicose RFA in our center is on women's forums and portals about health.
An important component of the prevention of relapse is conservative treatment of varicose veins. After all, it is important not only to cure the patient, but also to eliminate the mechanism of the repeated occurrence of this disease. To all our patients, we recommend that you twice a year take medication for varicose veins. This timely treatment of varicose veins without surgery is aimed at strengthening the venous wall and reducing the symptoms of chronic venous insufficiency.
Methods of treating varicose veins - prices and cost for treatment
In our center, we use all the most modern methods of treating varicose veins, and the prices are strictly fixed. Therefore, turning to us, patients can count on high-quality service, treatment and affordable cost. And remember that a timely visit to a doctor will completely cure the disease and avoid its relapse.
Over the years, the pricing policy of our center has been distinguished by loyalty to patients. It is enough to note that the cost of the latest medical services in our phlebology center has not increased since 2014 of the year. At the same time, more modern and advanced technologies for treatment and diagnosis appeared in the clinic during this time.
| | |
| --- | --- |
| Ongoing service | Cost (price) of service |
| Endovenous laser obliteration (EVLO) using German Biolitec technology on one lower limb | |
| Radiofrequency ablation using American technology Venefit (RFA) on one lower limb | |
| Miniflebectomy according to Varadi, Ash, Muller | |
| Foam sclerotherapy (Foam-form) using ultrasound navigation (1 session on one lower limb) | |
| Microsclerotherapy of telangiectasias (spider veins and reticles) - (1 session on one lower limb) | |
| Sclerotherapy (Foam-form) of unaesthetic veins in the arms (1 session on one upper limb) | |
| Preoperative preparation (tests and examinations before endovascular treatment) | |
For the convenience of our patients, we work with banks that offer credit lines. Also in our center there is a flexible system of discounts and installments. Payment by Visa and Mastercard is possible. At the end of the course treatment, the patient is issued a package of documents for submission to the tax office for tax deduction.
Treatment of varicose veins with a laser. Feedback from our patients.
Patient recall after laser treatment of varicose veins in our clinic.
Shaidurov S.S., 64, Moscow. 4 September 2018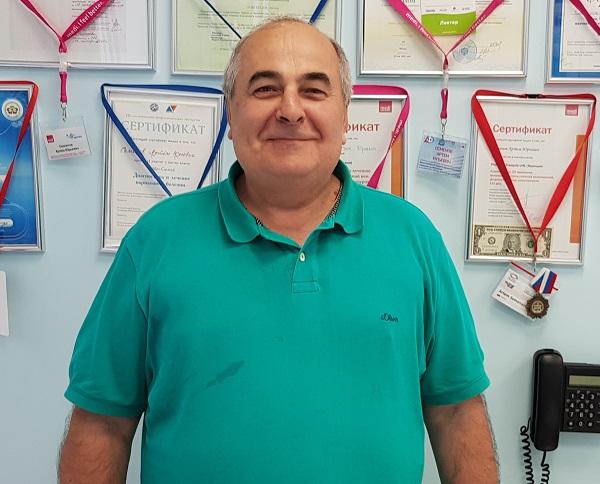 A year has passed from the moment when I had surgery on my left leg to remove varicose veins. Now I can write everything that happened to me and share my experience. Maybe this will help someone to maintain their health and not lose time on empty searches.
I had varicose veins on my leg for several years. He was treated with gels, tablets, wore compression stockings, etc. Nothing helped. Leg hurt, swollen. Life was uncomfortable, but I pulled on. And who wants to have surgery under general anesthesia (phlebectomy)? But you can no longer wait - there was a risk of a blood clot. I frantically began to look for where and who could operate on me. In parallel, I began to study this issue on the Internet and realized that today there are new minimally invasive methods for solving my problem. Since I live in Moscow, I went to different medical centers and hospitals. I went to see different doctors, got acquainted with their capabilities and methods. Everyone suggested I have an operation. Among them there was even one cosmetologist. Nobody aroused my confidence. Time passed, but I could not make a choice. Lots of suggestions, but all wrong. As a result, I decided for myself that I would only have surgery with a phlebologist and a minimally invasive method.
Quite by chance, I went to the site of the "Medical Innovation Phlebological Center", which is located near the Kolomenskaya metro station. I read information about this Center. I learned that a wonderful specialist, an innovator of new methods of treatment, Ph.D. endovascular surgeon, phlebologist, medical expert Semenov Artyom Yuryevich. Arriving at the appointment with Artyom Yuryevich, I immediately realized that this was exactly the doctor I needed. Artyom Yuryevich examined me and appointed the day of the operation. I had an operation that lasted only 35 minutes. The epicrisis says: "endovenous laser obliteration using Biolitec technology of the saphenous vein on the left with a Classic Classic LED with Varadi miniflebectomy on the lower leg." Only 35 minutes, and no need to do general anesthesia, no need to recover for a long time, as after a normal operation. I got up and went with my feet. The doctor also told me to walk an hour. This is a miracle, a real miracle!
The equipment in the Center is the most modern. The operation is easily tolerated, no pain. I did not feel anything: neither laser obliteration, nor injections, nor miniflebectomy on the shins. Nothing! When they told me that the operation was completed, I did not believe it. And was she? Yes it was. It was a very complicated operation carried out so quickly, efficiently and professionally. And this, of course, thanks to such a unique specialist - Semenov Artyom Yuryevich and the entire staff of the Center.
The whole year after the operation, I was under the watchful eye of Artem Yurievich, underwent control examinations.
I especially want to thank the people who helped me recover:
Ph.D., head of the Center for Phlebology "MIFTS" Semenov Artyom Yuryevich;
Ph.D., leading phlebologist of the Center Kalachev Ivan Ilyich;
operating nurse Zakary Elena Vladimirovna;
Center Administrator and a very good person Tatyana Aleksandrovna Efimova.
Thank you for your professionalism, attentiveness, kindness and warm emotional attitude towards patients. Now everything is fine with me. I chose the right place of treatment. Shaidurov Sergey Sergeevich, 64, Moscow. 4 September 2018
Treatment of varicose RFA. Feedback from our patients.
Recall of a patient undergoing treatment in our clinic "MIFTS" by RFA
Patient Vasily, 38 l, Moscow.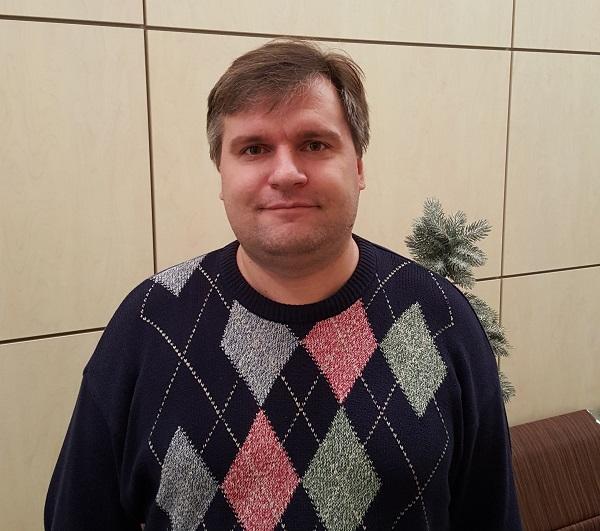 My review of RFA surgery combined with miniflebectomy on the veins of the right leg is for people who have a similar operation or for those who need information about what it is and what it is eaten with. I would be glad if my review helps someone make decisions. I will answer any questions. This e-mail address is protected from spam bots. You need JavaScript enabled to view.
When I had varicose veins, I do not know. he did not bother me. But somewhere in the half year before the operation, the leg was noticeably swelling around the bone, a black stain appeared. I had to make an appointment at the polyclinic with a surgeon. Ultrasound showed disappointing results, varicose of the second degree. I looked at the reviews on the Internet. I went through a similar procedure in several clinics to understand where to do the operation. The choice of where to make the operation was made according to several criteria: the care and professionalism of the surgeon, the treatment with the client in the clinic itself, the price. Based on all of the above, the operation decided to do a doctor-phlebologist Semenov Artem Yurievich. The operation had to be done quickly enough, because trophic changes had already begun. I was scheduled for mid-May.
Before this, it is necessary to pass the tests and get the doctors' conclusions according to the list. From the recommendations - do not warm your foot, smear lyoton (troxevasin), take detralex, wear compression linen. After receiving the results of the tests it is necessary to transfer them to the surgeon. Since I took tests at the same clinic where my operation was performed, I did not have to transfer the results. They automatically went to the doctor. The only thing I want to mention, the tests are valid for a limited time, so they are done shortly before the operation. Before the operation it is necessary to process the area of ​​operation - at home the day before! I had to shave the right leg and the groin area to the right. Peculiar sensations. It took a lot of time. It's easier for women). The operation should come in loose clothing and shoes, so the leg will be in a bandage, which will greatly increase its volume. And after the operation it is necessary to walk.
The operation was performed under local anesthesia and lasted about an hour and a half. The RFA does not deliver any pain. But during the second part of the operation - miniblebectomy, there is a certain discomfort from injections of anesthesia and removal of the veins themselves. But all this is not so important, in comparison with the result obtained. Immediately after the operation, he got to his feet and went to the ward. There I rested for about half an hour, received an extract with recommendations for further treatment. After it was necessary to walk on foot about 40 minutes. The next day they made a bandage. I want to express my gratitude to phlebologist doctors Semenov Artem Yuryevich for the operation. Good luck to all those who are preparing for the operation. I recommend not to postpone those who need it. This e-mail address is protected from spam bots. You need JavaScript enabled to view.
Treatment of varicose veins with sclerotherapy of veins. Testimonials from our patients.
Feedback from our patient about the treatment with sclerotherapy in our phlebology clinic.
Ablakova G.N., Moscow, 15.07.2019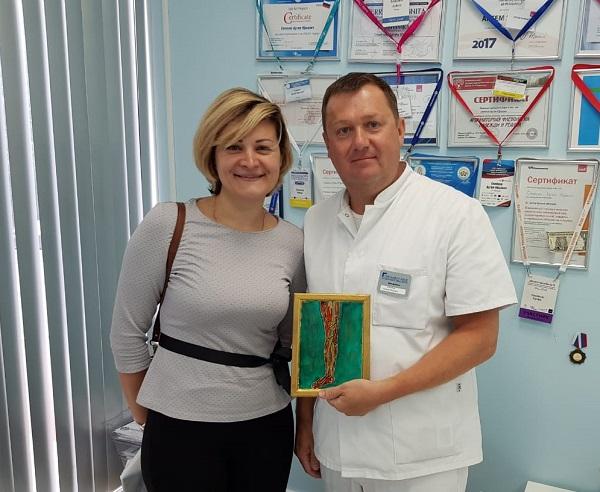 A year ago, in July 2018 of the year, I came to a consultation with Artyom Yuryevich Semenov. After the ultrasound, he explained everything in detail and in an accessible "medical" language. I came with edema, complaints of "burning calves" and limb "unaesthetic" appearance of the legs. After a pleasant conversation, I decided on sclerotherapy for veins. A year has already passed, and the effect does not stop rejoicing! My legs don't hurt, I can afford to wear shorts and dresses not on the floor. Thank you very much to the doctor "from God" !!!!! Artem Yurievich, you are a wonderful doctor! Thank you for being! I wish you good health !!! I managed to transfer several long flights and they were painless. I enjoyed the vacation and there was no more terrible constraint due to the "ugly veins".
The results of the application of various methods of treatment of varicose veins. Photos before and after treatment
The result of treatment with endovenous laser coagulation (EVLK) using German Biolitec technology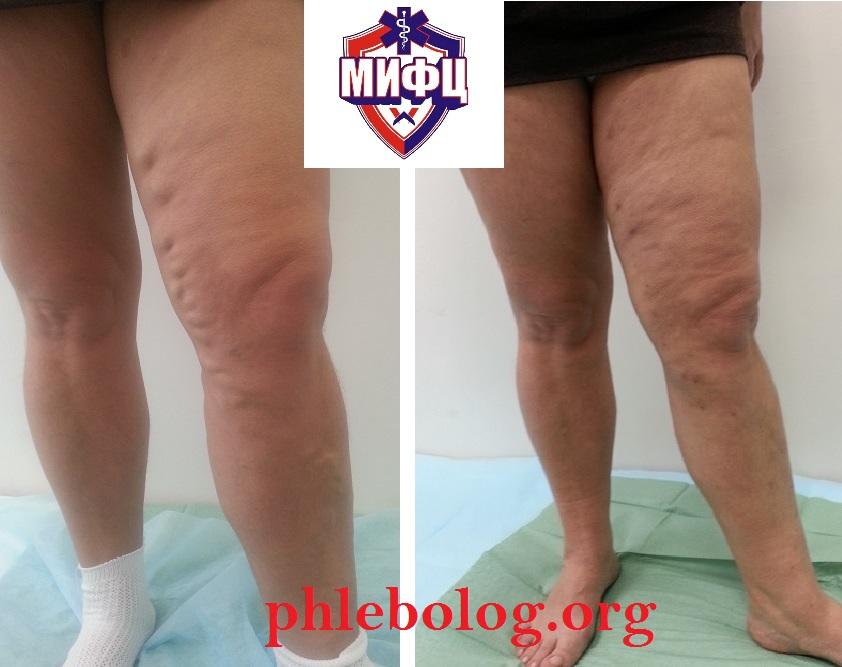 Photos before and after endovenous laser coagulation (EVLK) on the left lower limb
The result of treatment of a patient in the center of phlebology "MIFTS" by the method of radio frequency ablation (RFA) according to the American technology Venefit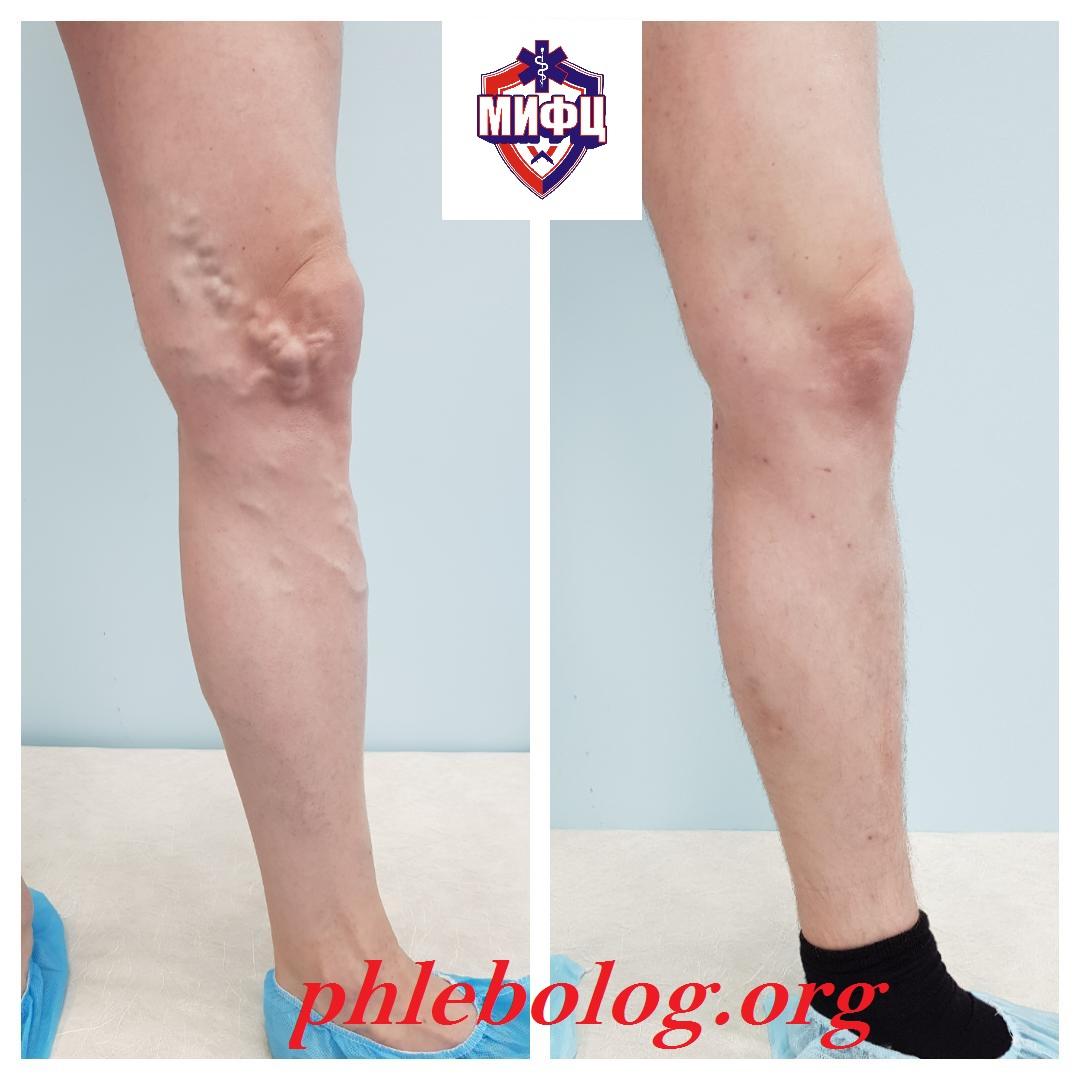 Photos before and after radiofrequency ablation (RFA) using American Venefit technology on the left lower limb
The result of treatment of a patient in the phlebology center "MIFTS" by Varadi miniflebectomy method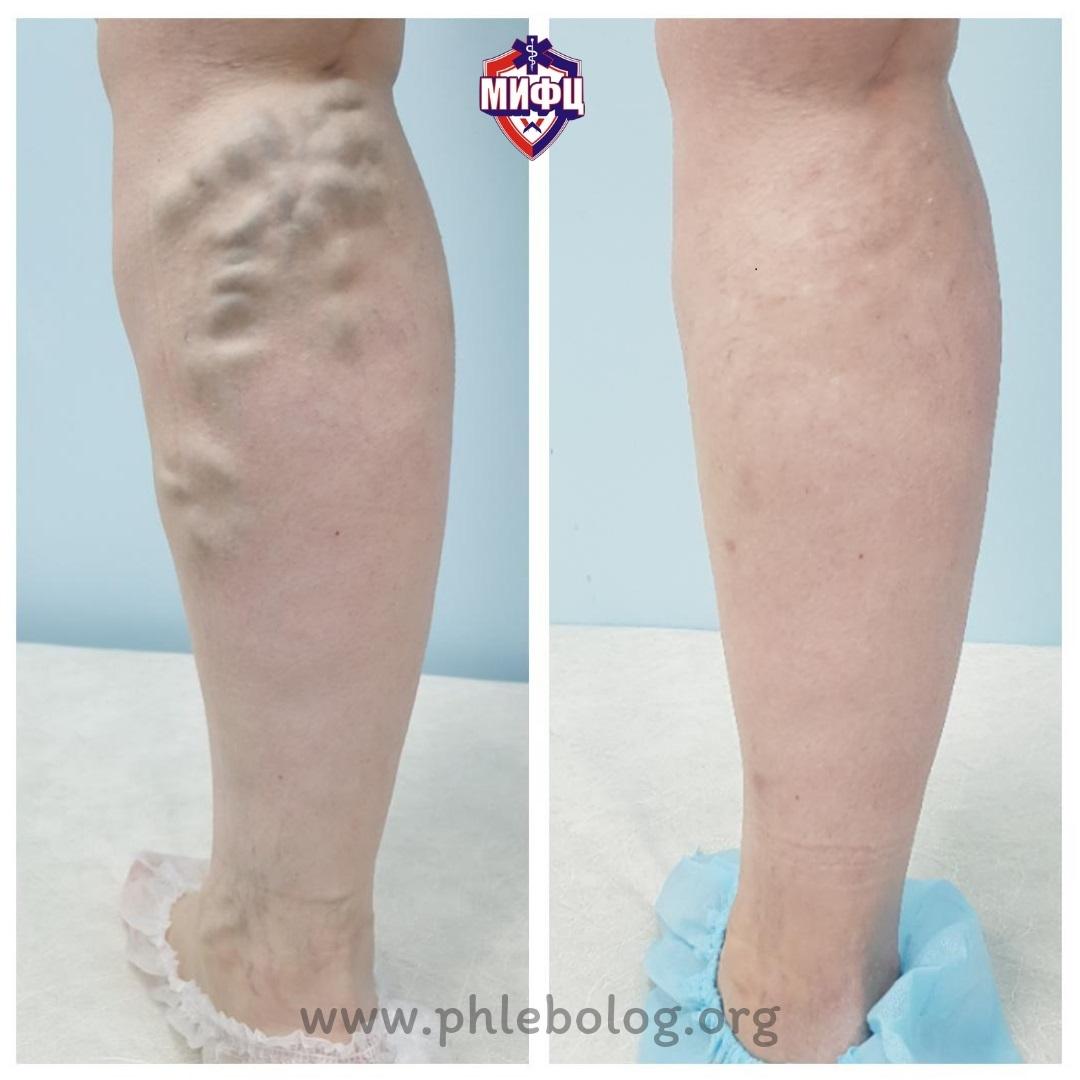 Photos before and after Varadi miniflebectomy on both lower limbs
Frequently asked questions on the Internet about the treatment of varicose veins.
What is the best treatment method for varicose veins of the lower extremities: RFA or EVLK.
Answer: Both of these methods are equally often used in our center for the treatment of varicose veins of the lower extremities. Both of them are good. Both are performed under local anesthesia. Both have no rehabilitation period, that is, the patient leaves home 5 minutes after the procedure. The price of treatment for EVLK and the price of treatment for RFA is the same. But what method will be used specifically in your case - the doctor will decide after examination and ultrasound scanning of the veins of the lower extremities.
I was offered to treat the veins of the lower extremities with sclerotherapy using an ordinary solution of sclerosing agent, and I read that the foam form of the solution is better. How to be?
Answer: Do not despair. The doctor who suggested sclerotherapy with the usual solution believes that this method is most suitable for you. Or he does not own the Foam-form sclerotherapy technique, which is also possible. In any case, consult in another clinic what they say there.
Why is the cost of laser treatment for varicose veins so different in different clinics?
Answer: The price for the treatment of varicose veins with a laser cannot be very low, since all consumables are purchased abroad and are disposable. If the price of procedures in the center is suspiciously low, and the center itself positions itself as very steep, with the best specialists, then they save on something, and think for yourself on what. No clinic will operate at a loss.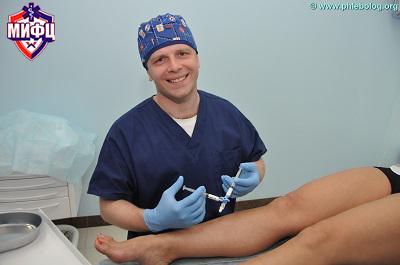 Leading phlebologist "MIFTS" Kalachev Ivan Ilich conducts a session of sclerotherapy
Any method of treating varicose veins of the lower extremities not aimed at their removal is vicious and leads to a rapid relapse (return) of the disease. In our center, phlebologist doctors will save you from varicose veins and vascular asterisks without complicated surgical intervention, without changing your habitual rhythm of life and most importantly - with a wonderful aesthetic result.