New method for removing varicose veins and spider veins in Moscow - Quattroscleroterapia
Quattroscleroterapia or "Sclerotherapy in 4 hands" - an innovative method of removing varicose veins and spider veins on the lower extremities, carried out simultaneously by two specialist phlebologists.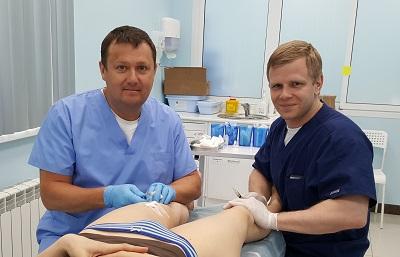 Phlebologists Semenov A.Yu. and Kalachev II during quattroscleroterapii
The main advantage of this method is the reduction of the time of sclerotherapy in 2 times. It's no secret that sclerotherapy is a rather painful method, especially in women with low pain threshold. Very often, pain is exacerbated during PMS. Skin sensitivity is an individual feature of each person. To understand how the patient will undergo the procedure of sclerotherapy is possible only during the first session.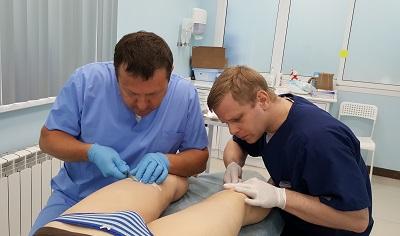 Phlebologists "MIFC" at work
Quattroscleroterapia significantly accelerates the process, thereby reducing unpleasant and painful sensations in patients with increased sensitivity of the skin during the procedure.
There is no need for routine use of quattroscleroterapii in the everyday practice of the phlebologist. However, in exceptional cases, it is vital.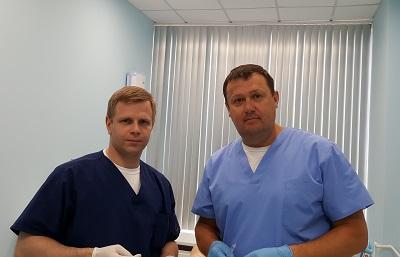 After a successful procedure, quattroscleroterapii
Phlebologists "MIFC" quite often use Quattroscleroterapiu in their practice. It is like playing the piano in 4 hands - beautiful, high quality and will be remembered by patients for a long time.