Compression knitwear eliminates varicose veins. Why do phlebologists prescribe compression knitwear.
Contents:
Is compression hosiery necessary in the treatment of varicose veins or not?
In recent years, among leading European experts, the controversy over the effectiveness of the use of compression knitwear for a number of venous pathologies has not stopped.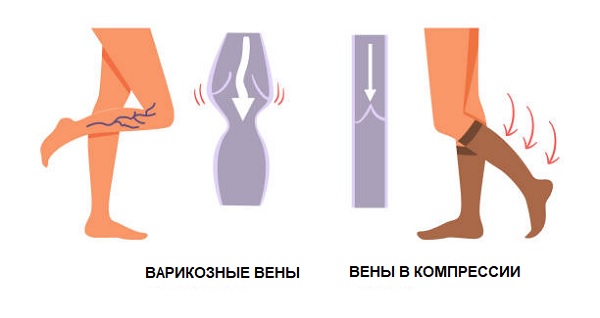 Modern compression hosiery
A sufficient number of doctors working in state medical institutions belong to modern compression products with a significant share of skepticism. At the same time, remaining adherents of compression therapy, as such, these same medical workers prescribe elastic bandages. In the vast majority of these cases, independent use of elastic bandages by patients is implied. But in this situation, indeed, there is a very good reason for skepticism. The use of compression bandages (bandages) implies the mandatory participation in the process of specially trained medical personnel for these purposes. Otherwise, such compression therapy will not only be ineffective, but will contribute to the development of complications. And simply, this is a discredit of the whole compression therapy technique. Dry figures from authoritative European studies say that more than 90% of patients use compression bandages incorrectly.
When is compression hosiery necessary in the treatment of varicose veins?
Compression knitwear was just designed with the aim to exclude the negative human factor from the use process as much as possible. All that is needed is to put on a compression product, the manufacturers have already thought about the rest, investing tremendous resources in research and testing of prototypes, and the selection of optimal compression gradients. The practice of a good specialist in venous pathology today is simply unthinkable without the use of good compression knitwear.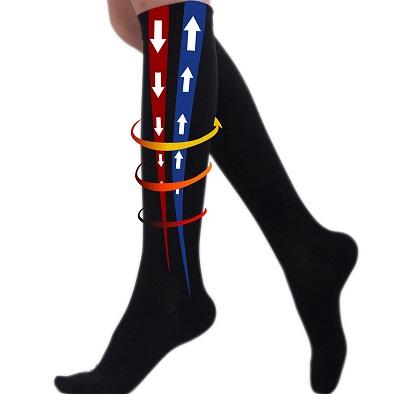 How veins work in compression knitwear
Any competent phlebologist knows firsthand the effects of compression therapy. In the practice of good and the best specialists in the treatment of vein pathology, the use of compression therapy occupies far from the last place.
Why are modern phlebologists so fond of using compression knitwear in the treatment of varicose veins?
No other technique will reduce the likelihood of thromboembolic complications as effectively as in the presence of varicose veins, and after any operation on the venous bed.
In the treatment of venous ulcers and other trophic disorders of the lower extremities associated with venous insufficiency, the use of compression is central.
After interventions on the veins, the use of compression products helps to avoid complications and side effects, makes the postoperative period as comfortable as possible.
A good graduated compression hosiery corrects edema, nutrient metabolism, improves microcirculation in the legs affected by varicose veins. Compression also reduces and eliminates the discomfort associated with chronic venous insufficiency. For these reasons, compression remains an effective tool in the practice of a good specialist.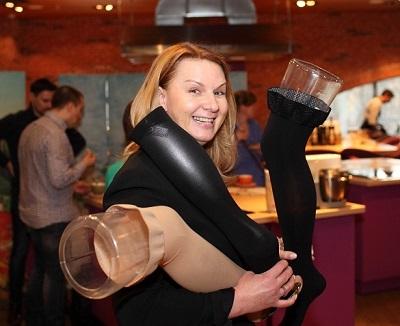 The main thing is good compression hosiery!
However, it should be understood that compression knitwear, no matter how good it is, is not able to cure varicose veins!
Patient Questions About Compression Knitwear
Elena from Moscow asks: is it necessary to use compression knitwear for varicose veins?
Dear Elena! The use of good compression hosiery for varicose veins is one of the best methods of preventing both complications of varicose veins itself and the side effects of modern varicose veins treatment.
Valentina from Moscow Region Vidnoe is interested in: where do I need to buy good compression hosiery in Moscow?
Dear Valentine! Good compression hosiery in Moscow, both for the prevention and treatment of varicose veins and other pathologies of the veins, you need to buy in specialized salons of compression underwear.
Anna from Moscow is interested in: how to choose a good compression knitwear in Moscow?
Dear Anna! If you have been diagnosed with varicose veins or other venous pathologies, you must first consult a good phlebologist. He will give all the necessary recommendations for treatment, including the choice of effective compression knitwear for you.
Larisa from Moscow asks: how often do you use compression hosiery in the treatment of your patients?
Dear Larisa! Specialists of the Moscow City Phlebology Center prescribe good compression knitwear for most patients, both for treatment and prevention of venous pathology. An exception is the category of patients for whom compression therapy is contraindicated.
Veronika from Moscow asks: which compression knitwear is best for varicose veins?
Dear Veronica! When diagnosing varicose veins, the best compression effect is achieved by modern compression jersey of compression class 2. Nevertheless, the selection of compression hosiery is always individual, and what kind of compression is needed for you only a doctor can tell after consultation.