Treatment for varicose bees. Apitherapy for varicose veins.
Contents:
What is apitherapy?
Apitherapy is a branch of alternative medicine that uses various beekeeping products, including bee venom.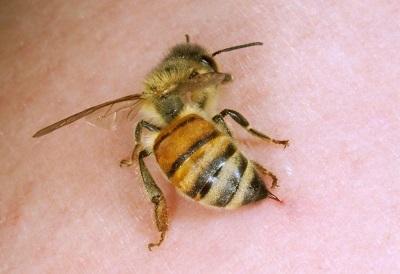 Apitherapy - bee treatment
The history of apitherapy
The history of apitherapy goes back to ancient times. Treatment with bees is described in the writings of Hippocrates and Galen; physicians of ancient Egypt, China, and Korea used apitherapy to treat a variety of diseases. Bees therapy in the USSR in the 1950s acquired a special development vector. And today, treatment with bees finds its supporters and fans. Treatment with bee stings is based on the development of an inflammatory reaction with the effect of stimulation of some tissue processes.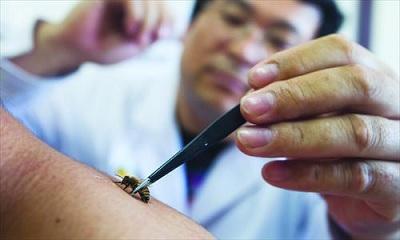 Bee treatment for varicose veins
In ancient times, this action found its application by analogy with some modern methods of physiotherapy. The effectiveness of the latter also raises a number of questions.
How relevant is apitherapy in the treatment of varicose veins today?
In this context, the most popular treatment is bee stings. Supporters of the method emphasize the fashion trend of the "natural product". Indeed, artificial additives, dyes and GMOs (probably) were not used in the production of bee venom. But let's figure out what a bee sting is. Apitoxin, or honey bee venom, is a cytotoxic and hemotoxic bitter, colorless liquid containing proteins that can cause local inflammation. It is the effect of specific local inflammation that underlies the treatment with bee stings. The principles of conservative treatment of varicose veins are based on the exclusion of any inflammation.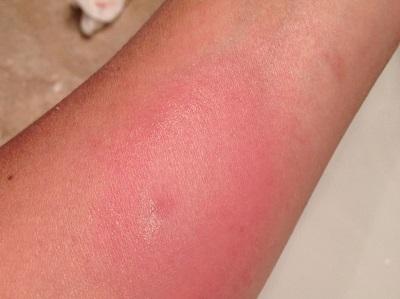 Inflammation and allergic reactions after a bee sting
Thus, apitherapy for varicose veins not only does not have a positive effect, but is also associated with the risk of complications. Exploiting the topic of "natural product" in this case, a number of specialists not only make them doubt their own competence, but also their adequacy.
Treatment of varicose veins by bees - benefit or harm?
In the context of modern realities, apitherapy is completely at odds with evidence-based medicine. There is no clear, recorded data on the benefits of its use. Fortunately, the popularization of the so-called "naturalness" gradually subsides with the rise of the medical culture of society. The problem of all natural products without exception, even with the proven effects of certain components, is a large number of side substances. With medical use, this affects the abundance of allergic reactions and even cases of anaphylaxis.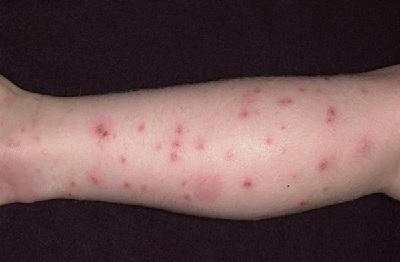 Apitherapy for varicose veins - only harm!
Thus, even after thousands of years of application history, apitherapy does not have any beneficial effects for the treatment of varicose veins. Medical professionals advocating for such treatment are likely to need a good, modern education to fill the obvious gaps in it.
Questions from patients about the treatment of varicose veins with bees - apitherapy
Anna from Moscow asks: a therapist in a state clinic recommended using apitherapy (treatment with bee stings) to treat varicose veins. Do you recommend apitherapy to your patients?
Dear Anna! Specialists of the Moscow City Phlebology Center categorically do not recommend you to use apitherapy for the treatment of varicose veins. It will do nothing but harm your body. Consult a good phlebologist to adequately resolve your varicose veins problem.
Sofia from Moscow is interested: I want to try the treatment of varicose veins with bees, where is it better to do this in Moscow?
Dear Sofia! Treatment of varicose veins with bees (apitherapy) does not have practical benefits, but can cause a number of unpleasant and even dangerous complications. Specialists of the Moscow City Phlebology Center use only modern and effective methods of treating varicose veins. Apitherapy does not apply to those.
Tatyana from Moscow is interested in: why apitherapy (treatment with bees) does not help with varicose veins? Is this a natural technique?
Dear Tatyana! Not all natural methods are equally useful. Apitherapy is completely ineffective with varicose veins. Also, treatment with bees can cause complications of both venous pathology and complications of an allergic nature.
Olga from Moscow asks: for many years I have varicose veins of the lower extremities. I tried to be treated with bee stings on the advice of a friend. In the area of ​​protruding veins, redness and pain appeared. This is normal?
Dear Olga! The fact that redness and pain appeared in the vein area is completely abnormal. You describe the symptoms of phlebitis. It is urgent to contact a specialist. Ideally, to a phlebologist, a doctor specializing in vein pathology. If this is not possible, consult a surgeon.
Alexandra from Moscow asks: will varicose veins be a contraindication to apitherapy?
Dear Alexandra! If you are diagnosed with varicose veins, you must refrain from apitherapy in the lower extremities. This treatment method can cause complications of varicose veins.