Contents:
The stereotype of the treatment of varicose veins only in stationary conditions
Over the decades of the existence of Soviet state medicine, many people have developed certain stereotypes. One of these persistent stereotypes is the opinion that serious and effective treatment of any pathology is possible only in a hospital. And you will be lucky if it turns out to be a modern hospital. It is likely that you may find yourself in such ...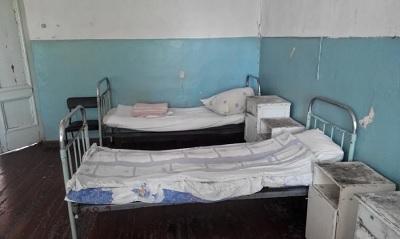 Clinical conditions may vary!
Modern technology has changed a lot. There was a clear movement towards a decrease in invasiveness, that is, an operating injury. In parallel, the outpatient practice of working with pathologies, the treatment of which was previously carried out only inpatient, appeared and began to quickly gain popularity. One of them was varicose veins. Innovative techniques have made the process of eliminating varicose veins an outpatient procedure.
What does modern phlebology offer today?
This does not mean that modern outpatient treatment has become less effective. On the contrary, the results of innovative outpatient treatment for varicose veins are superior to those of classical surgery. This is due to a completely different technique for outpatient surgery. Modern methods of thermobliteration are based on puncture manipulations and ultrasonic control of the procedure. This requires a completely different level of training.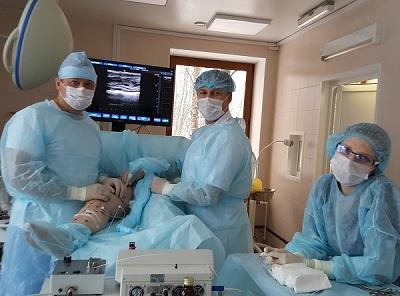 Modern equipment and experienced phlebologists - only outpatient treatment of varicose veins!
Probably for this reason, the state medicine sector cannot afford the massive introduction of innovative technologies for treating varicose veins. The need to use a hospital in classical operations (phlebectomy and stripping) is dictated by the use of anesthesia or spinal anesthesia, as well as significant surgical trauma.
Lie down in a hospital or do an operation on an outpatient basis. What's better?
Fortunately, today patients have a choice whether to be treated in the old way or in a new way. Classic surgery and inpatient or innovative outpatient procedure. Paradoxically, the latter wins not only in comfort for the patient, but also in radicalism. Ultrasonic testing and jewelry technology are the secrets to the success of modern outpatient treatments for varicose veins.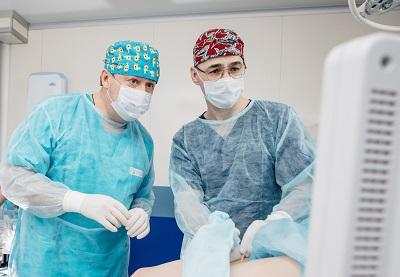 We carry out treatment of varicose veins only on an outpatient basis.
The inefficiency of modern endovasal interventions is another myth exploited by individual representatives of state medicine. And here the questions are not only to their professional competence, but more to honesty and decency.
Today you can choose for yourself how to treat varicose veins. This may be inpatient treatment of varicose veins with incisions and anesthesia or modern endovascular outpatient treatment.
Patient questions about whether to go to hospital to cure varicose veins
Daria from Moscow asks: how many days do I need to stay in the hospital after the operation to remove varicose veins?
Dear Daria! If traditional surgical techniques are used to remove varicose veins, the hospitalization period will be 1-2 weeks, sometimes more. When removing veins using modern endovascular surgery, hospitalization is not required at all.
Victoria from Moscow is interested in: is it possible to remove varicose veins on the legs as an outpatient?
Dear Victoria! With the help of modern European methods, even severe varicose veins of the lower extremities are completely cured on an outpatient basis.
Maria from Moscow asks: why doesn't hospitalization be required for laser vein surgery?
Dear Maria! Modern endovascular interventions are not associated with significant tissue injury, all manipulations are carried out using skin punctures. Therefore, inpatient treatment is completely not relevant.
Milan from Moscow is interested: they say that inpatient treatment is always better than outpatient treatment. Where is it better to remove varicose veins, in a hospital or on an outpatient basis?
Dear Milan! That inpatient treatment is better than outpatient treatment is a myth supported by some public health professionals. Regarding the treatment of varicose veins, classical operations are stationary. Modern endovascular technologies are used as outpatients, which have a significant advantage over traditional operations in all aspects.
Alina from Moscow asks: is laser treatment for varicose veins only ambulatory?
Dear Alina! Good urban phlebology centers conduct modern laser thermobliteration procedures exclusively on an outpatient basis. The use of hospitalization in a hospital in this situation is impractical from both theoretical and practical points of view.