Scars and scars will remain after the vein removal operation.
The aesthetic effects of surgery today are becoming one of the key aspects of treatment success. Large incisions have long ceased to adorn surgeons. Good specialists strive to make scars minimal. Modern technologies for the treatment of venous pathology did not remain aloof from this trend. Classical surgical interventions (phlebectomy and stripping) used in the public sector of medicine are difficult to boast of postoperative aesthetics.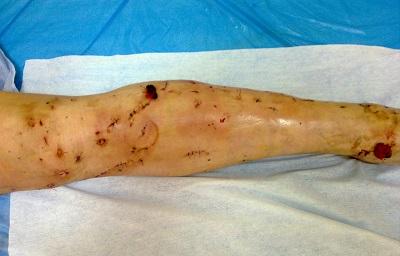 This is how the leg looks right after a classic phlebectomy
In any case, decent cicatricial skin defects remain. Modern innovative technologies use a fundamentally different approach. The use of puncture access and ultrasound control made it possible to exclude incisions from the procedure in principle. No incision, no scar. Puncture scars at the puncture sites are difficult to see within a few months after the innovative intervention. In addition to the aesthetic effect, the absence of incisions significantly affects the rehabilitation period and the condition of the tissues of the lower extremities. The lymphatic vessels and cutaneous nerves remain intact.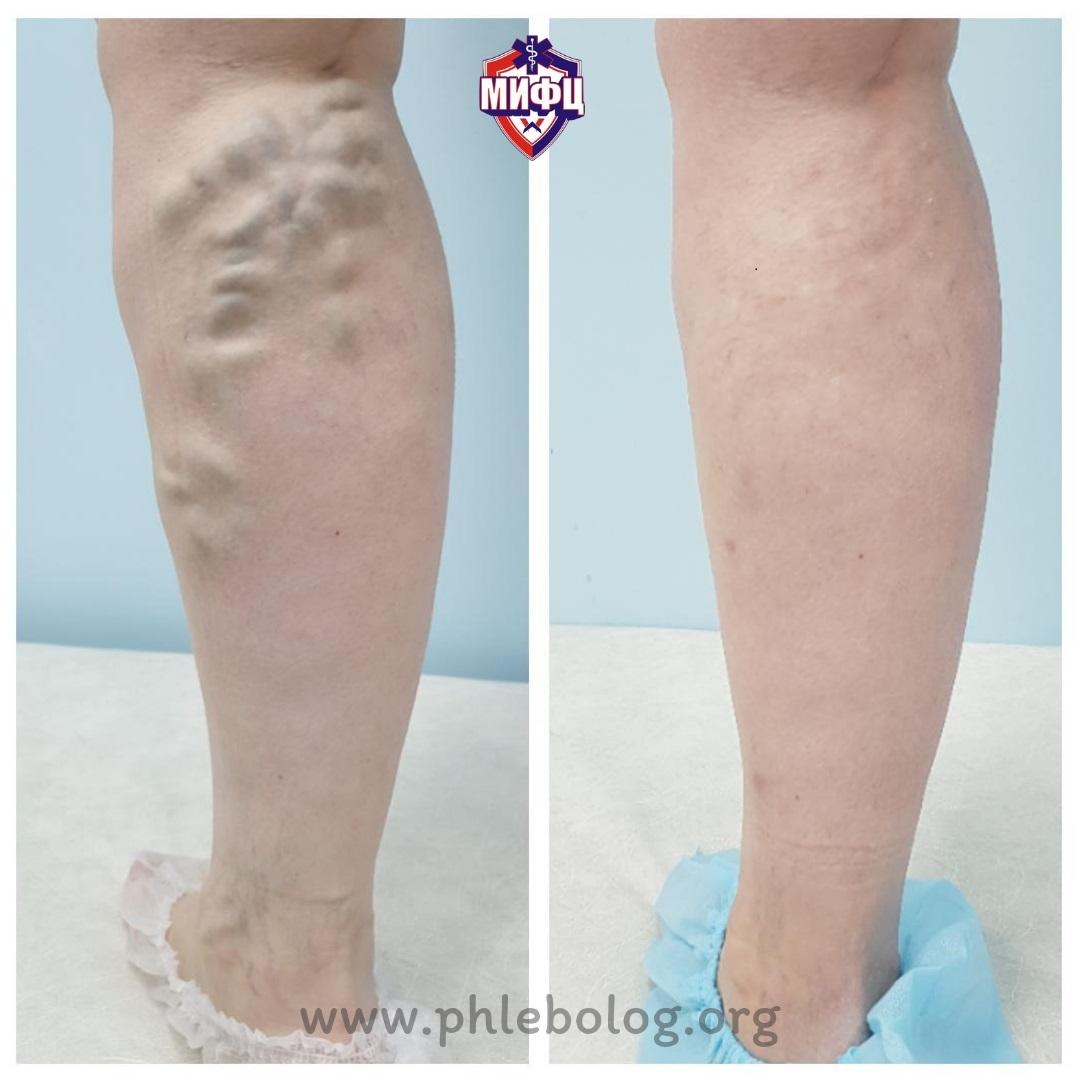 The result after modern surgery EVLK
Modern endovascular treatment of varicose veins is not a huge amount of scars from the groin to the ankle. The only excuse that existed among state experts was that only classical surgery has the proper radicalism. Nevertheless, modern European studies prove the opposite, innovative technologies have a much better long-term effect of the treatment of varicose veins than classical phlebectomy and stripping. This is achieved by jewelry accuracy of manipulations under ultrasonic navigation, a high level of professionalism of specialists.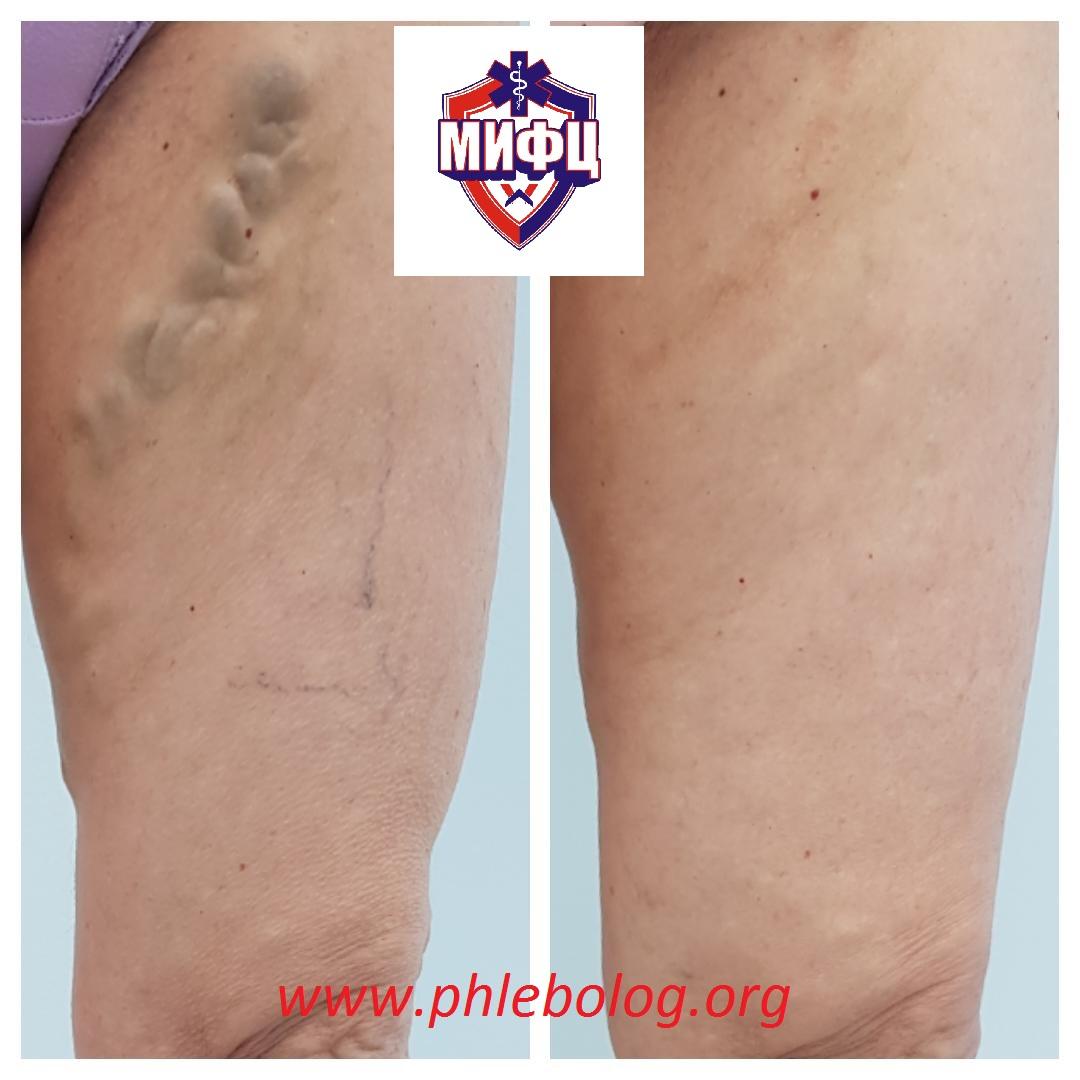 The result after surgery miniflebectomy according to Varadi
Scars and scars with modern venous obliteration procedures are completely a thing of the past. When in doubt whether to remove or not remove varicose veins, which technique to choose, conventional surgery or innovative thermobliteration, look at the "before and after treatment" results on the websites of leading phlebologists.
In order not to be unfounded, the photo gallery of the Moscow City Phlebology Center is presented on the page of our website: https://phlebolog.org/results. Here you can see for yourself what modern phlebology is from an aesthetic point of view. The consequences of a procedure in which varicose veins are completely eliminated are almost invisible to the naked eye.
Patient questions about classic and innovative treatments for varicose veins
Maria from Moscow is interested: I want to remove the varicose veins, but I'm afraid of the scars that will occur after phlebectomy. Can this be avoided?
Dear Maria! Modern endovascular techniques do not use incisions, which completely eliminates the formation of scars and scars.
Natalia from Moscow asks: after which operations on the veins scarring forms?
Dear Natalia! Significant scars are formed after classical operations for the treatment of varicose veins (phlebectomy and stripping). Innovative technologies that are used by leading phlebologists today do not imply scarring.
Victoria from Voskresensk near Moscow is interested in: a doctor in a state hospital diagnosed me with varicose veins and recommended a phlebectomy. I found photos of scars after a phlebectomy on the Internet and changed my mind about having surgery. Is it possible not to do a phlebectomy?
Dear Victoria! It is necessary to remove varicose veins in order not to get complications of varicose veins. Today there is a good alternative to phlebectomy and stripping in the face of modern endovascular techniques. After using these technologies, scars do not remain.
Eugene from Moscow is interested: is it possible to have an operation to remove veins without scars?
Dear Eugene! Modern endovascular technologies that are used in the Moscow City Center of Phlebology do not imply incisions, and therefore scars. Using these innovative techniques, we have successfully operated on thousands of patients.
Daria from Moscow asks: after the vein surgery, scars remain in your center?
Dear Daria! Specialists of the Moscow City Phlebology Center use the best endovascular techniques to remove varicose veins. These modern technologies use punctures rather than cuts to access veins. Due to this, visually noticeable scars do not remain even with a significant amount of varicose vein removal.