The modern treatment for varicose veins is long and painful! Is it really?
Contents:
Why are patients with varicose veins afraid to go to the doctor?
One of the main factors why patients turn to phlebologists so late is the fear of probable surgical treatment. A significant number of patients have been preparing a visit to a specialist for years. Doctors of state medicine (for the most part) also do not add constructiveness to this issue. Lack of awareness, stereotyped thinking, and simply illiteracy, unfortunately, remain the hallmarks of modern state medicine. Phlebology, as a science, appeared due to the surgical achievements of the late XIX, early XX centuries. It was then that the principles of the radical treatment of varicose veins appeared and consolidated.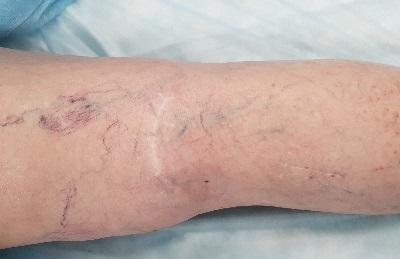 Scars and scars after classical phlebectomy
Surgical treatment of varicose veins, used today, is based on the techniques of the beginning of the last century. The traditional operation offered by the doctor in a state hospital was developed over a hundred years ago. It involves anesthesia or spinal anesthesia. The cuts are being manipulated and require a period of serious rehabilitation. For these reasons, modern phlebologists, specialists professionally involved in the treatment of venous pathology, refused such interventions.
What has changed in the treatment of varicose veins
Modern endovascular technologies appeared more than 20 years ago. Over the years, they have changed significantly, and today they are the standard of treatment for varicose veins. For this treatment, incisions are no longer needed; access is realized with the help of small skin punctures. Only local anesthesia is used, discomfort is practically excluded. Immediately after the manipulation, the patient goes home. No need to stay in the hospital and undergo rehabilitation. The punctures heal completely within two to three days. The manipulation takes place under ultrasound imaging, which eliminates any errors and even inaccuracies.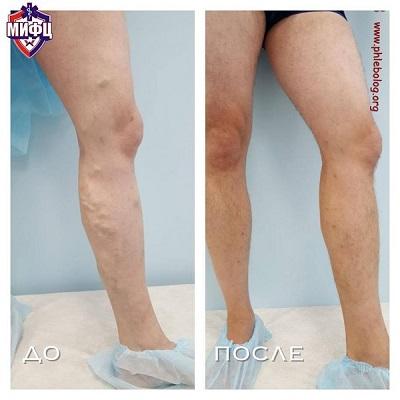 Photo of the results of laser treatment in our clinic 1 month after the intervention
These are the realities of the innovative treatment of varicose veins that has been practiced by specialists of the Moscow City Phlebology Center for many years.
Why did we stop using traditional surgery?
Since 2010, our clinic "MIFC" has not used the classic operation to remove varicose veins. Our phlebologists have only innovative techniques in their arsenal. They are painless and easily tolerated by patients. And the effect of endovascular, low-traumatic treatment lasts an order of magnitude longer than after classical surgery. There are several reasons for this:
Good control of ultrasonic assistance, which allows the most accurate removal of venous pools of varicose veins.
Minimal tissue injury. Healthy veins are not damaged.
The period after manipulation implies activity, which eliminates many of the complications of classical surgery.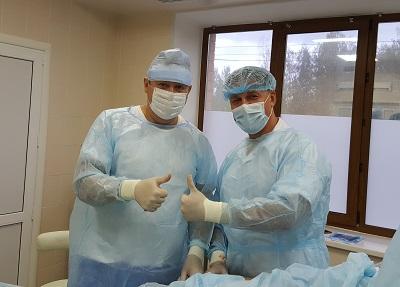 Phlebologists Semenov A.Yu. and Antipov A.A. after a successful laser procedure
Modern treatment of varicose veins is 1-2 hours of wasted time and your legs are healthy. Wearing compression hosiery for up to a month after the intervention is perhaps the only inconvenience of this innovative treatment.
Questions from patients about modern methods of treatment of varicose veins
Julia from Moscow asks: is it painful to treat varicose veins with a laser?
Dear Julia! Modern endovascular treatment of varicose veins with a laser is a fairly comfortable and painless process. Anesthetic injections are made with the finest needles and the pain is minimal.
Irina from Moscow is interested: I was diagnosed with varicose veins, I need to have surgery. I'm afraid of pain. Which anesthesia is better?
Dear Irina! Modern endovascular treatment of varicose veins is performed using punctures under local anesthesia. Pain is minimal. Anesthesia in this situation is not relevant.
Daria from Moscow is interested in: how painful is the operation with varicose veins in the legs?
Dear Daria! Modern surgery for varicose veins of the lower extremities is almost painless. Getting rid of veins with innovative techniques is no more stress than visiting a dentist.
Marina from Moscow asks: my friend did an operation to remove veins in a state hospital. The whole treatment took more than two months, the dressings were carried out for two weeks. Are there other ways to treat varicose veins?
Dear Marina! Currently, for the treatment of varicose veins, the most modern and effective are innovative endovascular interventions. Bandaging skin punctures is carried out for two to three days. After 3-5 days, patients return to their usual lives in full.
Elena from Moscow is interested in: how painful is laser treatment of varicose veins?
Dear Elena! Innovative endovascular laser treatment for varicose veins is performed under local anesthesia. Most often, this manipulation is not associated with pain, and in the hands of an experienced specialist it almost always goes away without any pain.