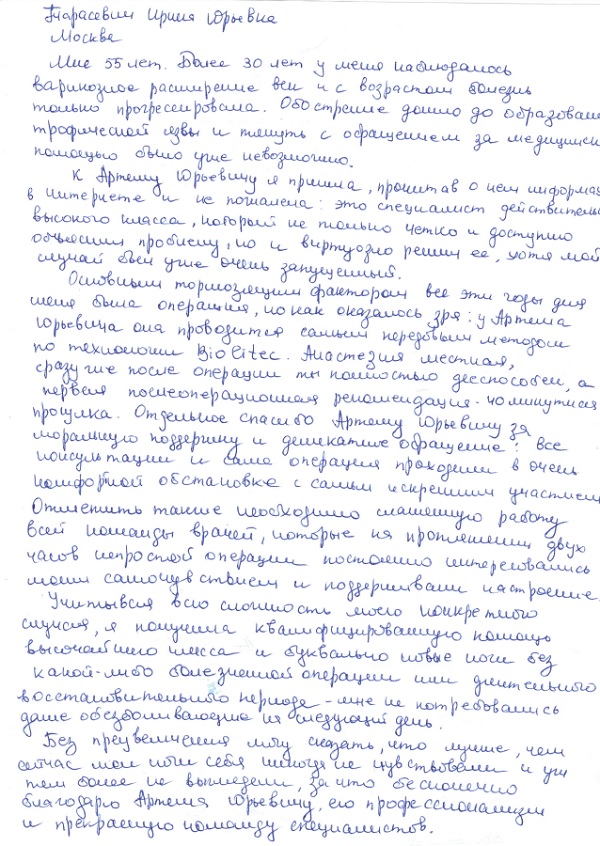 I am 55 years old, for more than 30 years I have had varicose veins and the disease only progressed with age. The aggravation reached the formation of a trophic ulcer and it was no longer possible to delay seeking medical help.
I came to Artyom Yuryevich after reading information about him on the Internet and did not regret: this is a really high-class specialist who not only clearly and easily explained the problem, but also brilliantly solved it, although my case was already very neglected.
The main inhibiting factor all these years for me was the operation, but as it turned out in vain: at Artyom Yuryevich, it is carried out using the most advanced method using Biolitec technology. Local anesthesia, immediately after the operation you are fully functional, and the first postoperative recommendation is a 40 minute walk.
Special thanks to Artyom Yuryevich for his moral support and delicate treatment: all consultations and the operation itself took place in a very comfortable environment with the most sincere participation.
It is also necessary to note the well-coordinated work of the entire team of doctors, who, during two hours of a difficult operation, were constantly interested in my well-being and supported my mood.
Considering the complexity of my particular case, I received top-class qualified assistance and literally new legs without any painful surgery or a long recovery period - I did not even need painkillers the next day.
Without exaggeration, I can say that my legs have never felt better than now, much less looked, for which I endlessly thank Artyom Yuryevich, his professionalism and an excellent team of specialists.
Tarasevich Irina Yurievna, January 12, 2021, Moscow.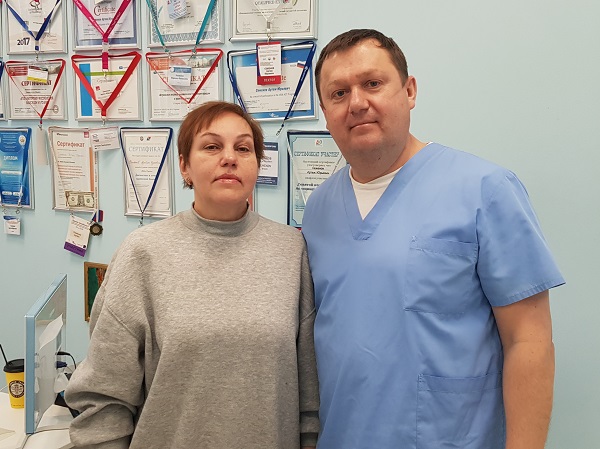 Tarasevich Irina Yurievna, January 12, 2021, Moscow
,
January 12 2021