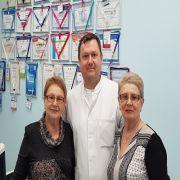 For many years, my sister and I were treated for varicose veins of both lower extremities, took pills, applied various ointments and gels, wore compression stockings. We were repeatedly offered surgery, but we did not agree, because then the operations were strip and required a long recovery.
In 2017, our niece underwent surgery for varicose veins at the Medical Innovative Phlebological Center on Yakornaya Street, not far from Kolomenskaya metro station. This center is headed by an excellent specialist, an innovator of new methods of treatment - candidate of medical sciences, endovascular surgeon, phlebologist Semenov Artem Yurievich. She was operated on using new technologies using a laser. The operation did not last long, after the operation it was necessary to walk immediately, there was no need to recover for a long time. This method interested us. She advised us to contact the head of the center - A. Yu. Semenov. We came for a consultation and it turned out that we needed an operation. We liked Artem Yurievich very much and we decided to have the operation with him.
Me, Pravdzivaya Elena Vasilievna, 1943. birth, had an operation in February 2018, which lasted only one hour. The epicrisis says: "Endovenous laser obliteration using Biolitec technology of large saphenous veins on both sides with Classic radial light guides and Kokket perforanite on the right with Slim radial light guide with Varadi miniphlebetomy on both legs and right thigh." After the operation, I immediately got up and walked for an hour.
My sister, Murannaya Nadezhda Vasilievna, 1947. birth, the operation was done in December 2018. The operation was postponed due to atrial fibrillation until a more favorable moment. After examination by a cardiologist, under the supervision of an anesthetist December 26, 2018. the operation was performed: endovenous laser obliteration according to Biolitec technology of large saphenous veins on both sides with Classic radial fibers. The operation was also successful.
Both of us performed the most difficult operations quickly, efficiently, and professionally. After the operation, we were under vigilant control of Artem Yuryevich for a year. We are very pleased that we had these operations done. Finally, after so many years of torment, we stopped feeling pain, heaviness, swelling in the legs. Our life has changed, it has become more comfortable.
From the bottom of our hearts, we want to thank the entire staff of the Center for Phlebology at the IIFC, headed by Artem Yuryevich Semenov. Thank you very much for your professionalism, attentiveness and good attitude to patients.
Pravdzivaya Elena Vasilievna, b. 1943 and Mudernaya Nadezhda Vasilievna, b.1947, Moscow
,
March 06 2020