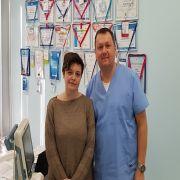 Last August, when I came back from the gym, I saw a bruise on my leg, it was very painful. "Well, okay," I thought, "I probably hit somewhere and didn't notice." But the bruise did not go away and after a few days, redness began around it. This picture was familiar to me: 15 years ago I had already undergone a vein operation, however, on the other leg, it all started the same way.
I had to go to surrender to the doctor, who turned out to be Artyom Yuryevich Semenov. I had an ultrasound and was diagnosed with thrombosis. I needed an operation.
To say that I was upset, to say nothing: in a week I was supposed to have a birthday, and even earlier - a couple of important meetings at work. Remembering my previous experience, I realized that at least two weeks I would have to drop out of my life: two days in the hospital, then recovery: endless and painful dressings, bloody bandages, special stockings, and all this would be accompanied by constant pain. And my legs will be terrible for six months: bruises, bumps and bruises, which, when healed, will begin to shine with all the colors of the rainbow! How am I going to go to the gym and the pool with such legs ?!
But my fears, fortunately, were not confirmed. On the day of the treatment, in addition to the ultrasound, they took all the necessary tests, prescribed treatment, and a day later I arrived at the clinic, where before the start of the operation the therapist examined me, having read the results of the tests, and allowed me to go to the operation.
The operation took place under local anesthesia, the most painful is the injections of the anesthetic: it is quite possible to survive if you had to donate blood from a finger. Artem Yuryevich is a very correct and adequate person, calmly explaining what was happening, not giving me the slightest reason to worry and panic. And since childhood I have been afraid of doctors and pain. The whole process took 40 - 45 minutes, after which they put on special stockings and sent me "for an hour to walk". There was no particular pain, I walked along Kolomenskoye, I returned already joyful: after all, 15 years ago I lay in a hospital ward for 2 hours after the operation, moving away from anesthesia.
They examined me and let me go home. The next day I arrived at the dressing, and the next day I did everything calmly myself: there was almost no blood, only small punctures remained. Yes, the bruises kept for a little more than a month, but they were hardly visible behind the stockings and did not have to bother with elastic bandages, as last time. All my meetings and my birthday were excellent: I could move around without any restrictions, I didn't even limp. The only thing: I had to stop gymnastics and swimming for a month, but then I calmly returned to my usual training regimen, I only had to wear stockings, which I quickly got used to.
In general, everything was not so scary, not so painful, and most importantly, quickly. And I got healthy legs without blue protruding veins: better than before surgery.
Thanks a lot to Artyom Yuryevich and all the doctors of the clinic.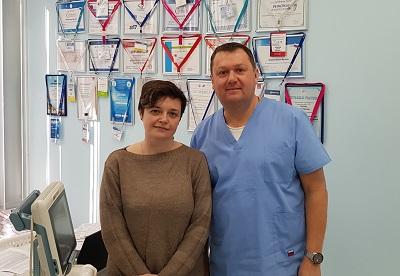 Grebennikova Nadezhda Vladimirovna, Moscow
,
March 18 2020