"Vein Act Prolonged: from general views to the subtleties of techniques. Focus on endovascular methods of treatment of chronic disease ", 10.02.2017.
With 9 on 11 February 2017, the long-awaited scientific and practical meeting of surgeons - phlebologists at the annual meeting «VeinActprolonged: from general views and ideas to the subtleties of techniques. Focus on endovascular treatments for CVD. " As in the previous year, this conference was attended by MIFC staff: head of the center Artem Yurievich Semenov and head of the phlebology department Alexei Nikolaevich Voloshkin.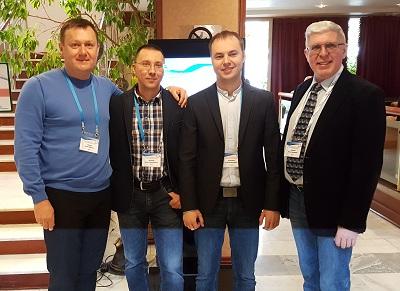 Phlebologists A.Yu. Semenov, S.V. Maximov, A.N. Voloshkin and A.E. Koreshkov before the conference
This conference became a logical continuation of the international project Vein Act Program 2015 and Vein Act Prolonget 2016g and is rapidly gaining momentum. Unlike previous projects this year, the goal of the study is aimed at treating patients with varicose veins of the class C2 and C2s (CEAP) with endovascular methods: laser obliteration and radio-frequency ablation.
The event began with an opening welcoming speech by the chairpersons in the person of the head of the department, professor, academician of the Russian Academy of Sciences Kirienko Alexander Ivanovich and doctor of medical sciences, professor, Honored Doctor of the Russian Federation Stoyko Yuri Mikhailovich.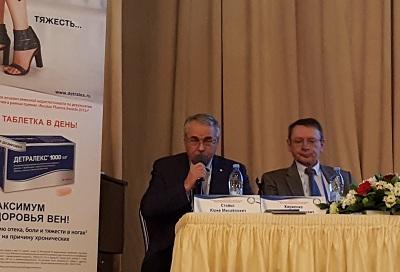 Academician A.I. Kiriyenko and Professor Yu.M. Steadfastly
Further, with an extensive scientific report, Dr. med. S.V. Sapelkin on the topic "Endovascular Surgery. Current state of the problem ".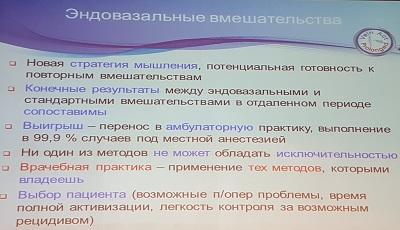 In the report, Sergey Viktorovich detailed all existing methods of endovascular interventions for varicose disease of the lower extremities.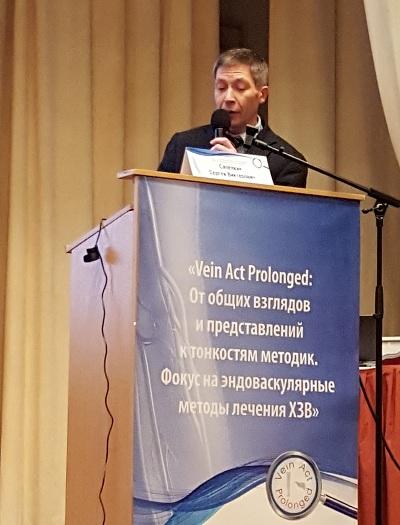 Report by Dr. med. S.V. Sapelkina (Moscow)
In the next report on the topic "Miniflebectomy or microfoam sclerotherapy" Professor M.A. Parikov presented the advantages and disadvantages of each of the methods of minimally invasive treatment, and explained in detail how to guide the phlebologist when choosing these methods.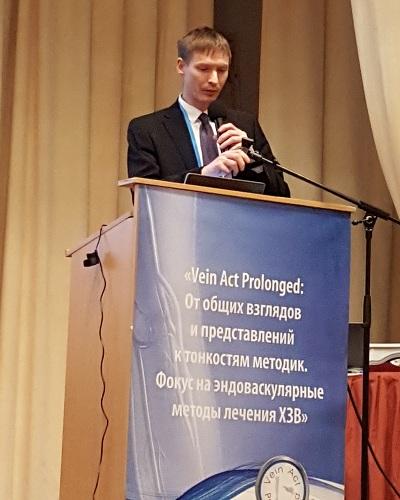 Report M.A. Parikova (St. Petersburg)
An important aspect of the conference was the presentation by Professor V.Yu. Bogachev, in which he summed up the results of an annual study of patients with varicose veins of class C1 and voiced interesting conclusions on the therapeutic effect of Diosmina in this pathology.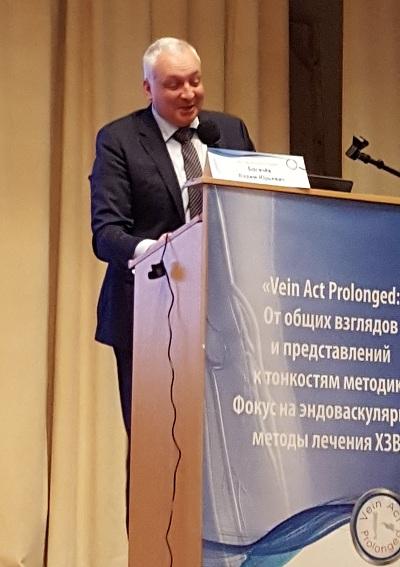 Report of the professor, MD V.Yu. Bogacheva (Moscow)
In the final practical part of the conference, author's methods (radiofrequency obliteration and endovasal laser coagulation) and their personal experience were shared by doctors from different cities of our country: E.A. Ilyukhin (St. Petersburg), S.M. Belentsov (Yekaterinburg), O.N. Gouzhkov (Yaroslavl), S.I. Larin (Volgograd), D.A. Slavin (Kazan) and others.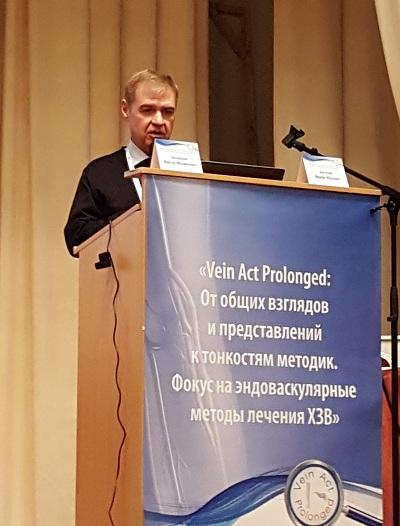 Ph.D. CM. Belentsov (Yekaterinburg)

cms E.A. Ilyukhin (St. Petersburg)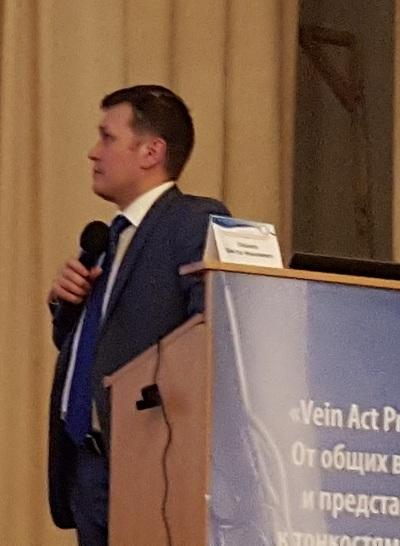 cms V.N. Lobanov (Moscow)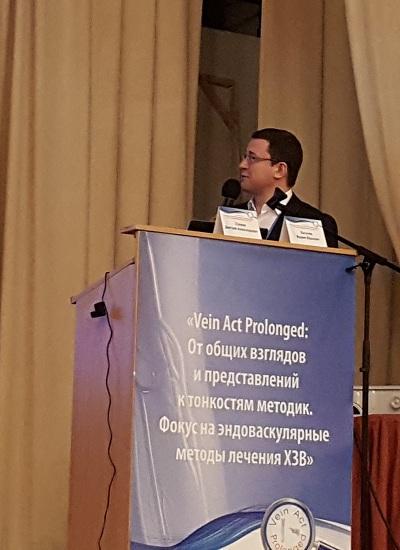 cms YES. Slavin (Kazan)
I would like to thank the organizers of the meeting, in particular the Servier company, for the comfortably created conditions for holding the meeting, for the opportunity to meet with colleagues and exchange invaluable experience in our interesting and hard work!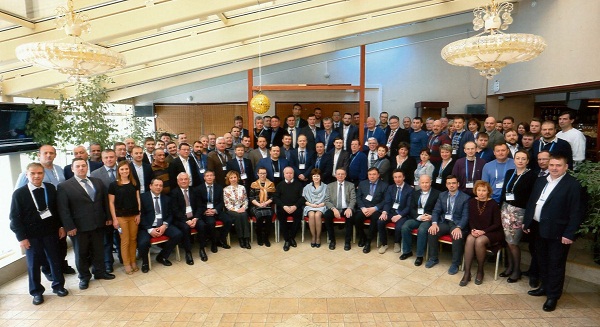 Phlebologists of Russia at the conference «Vein Act prolonged»2017