Friendly visit to the clinic "MIFTS" leading Russian phlebologist Solomakhin Anton Evgenievich.
On November 29, 2017, one of the leading phlebologists of Russia, head of the Moscow Center for Innovative Phlebology, Candidate of Medical Sciences Anton Evgenievich Solomakhin paid a friendly visit to our phlebology center.
During his visit an exchange of experience with the head of the phlebology clinic "MIFC", a phlebologist surgeon, Ph.D. Semenov Artem Yurievich.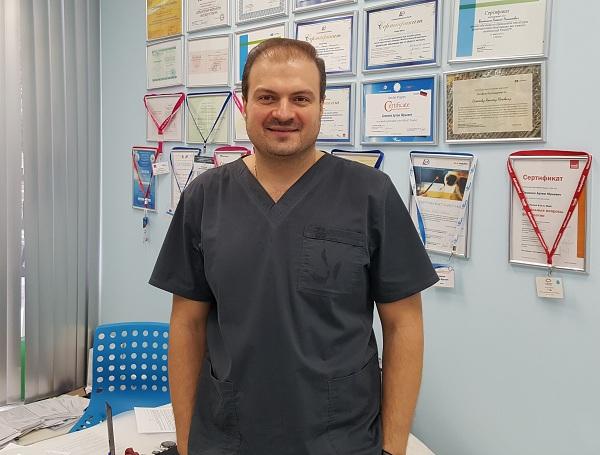 Head of "CIF", Moscow Solomakhin A.E.
Solomakhin Anton Evgenievich - a full member of the "Association of Angiologists, Phlebologists and Vascular Surgeons", a member of the "Association of Phlebologists of Russia", Candidate of Medical Sciences, a remarkable endovascular surgeon and phlebologist. He is considered to be one of the best practitioners in phlebology.
Doctor Solomakhin AE after graduation from the Russian State Medical University. N.I. Pirogova worked in the surgical department of the State Clinical Hospital № 15. Already at this time he actively began to deal with the diagnosis and treatment of varicose veins.
Since 2010, after defending his Ph.D. thesis, he moved to one of the largest surgical institutions in Moscow - the National Medical-Surgical Center named after V.I. N.I. Pirogov, and already in 2012 became the head of the phlebological department. In "NMHTs im. N.I. Pirogov "Anton Evgenievich performed all surgical and endovascular interventions on the veins of the lower extremities.
In 2013, he organized the Center for Innovative Phlebology clinic in Moscow on Chistye Prudy, the head of which is to this day. Over the years of work at the center, he performed several thousand operations, including endovasal laser obliteration (EVLO) and radiofrequency ablation (RFA). Also Anton Evgenievich is the author of more than 20 scientific works on phlebology, attends Russian and international conferences, gives reports and master classes throughout Russia.
В "Medical Innovative Phlebological Center" Anton Evgenievich came not only on a friendly visit, but also to exchange experience. It was also very interesting for us to discuss with him the preoperative preparation of patients for endovascular interventions for complicated forms of varicose veins, ultrasound marking before surgery and the tactics of managing patients during and after surgery.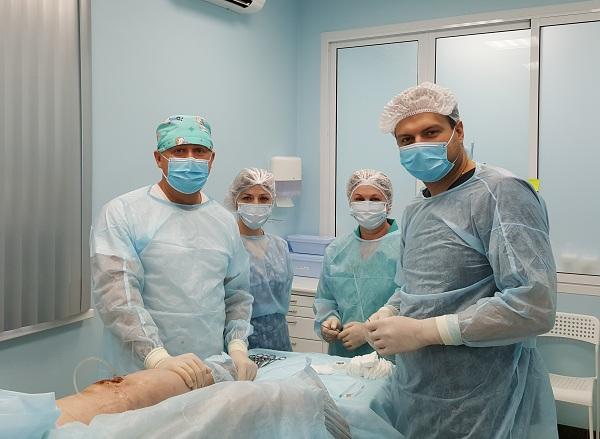 Operation team of phlebologists before a laser procedure
The tactics of operative laser operations all over the world, including our phlebology centers, have now become approximately the same. Since the constant exchange of experience between leading phlebologists becomes an integral part of improving vocational education. Our tactics of prompt treatment of all 6 patients, which we prepared, completely coincided with the opinion of Anton Evgenievich.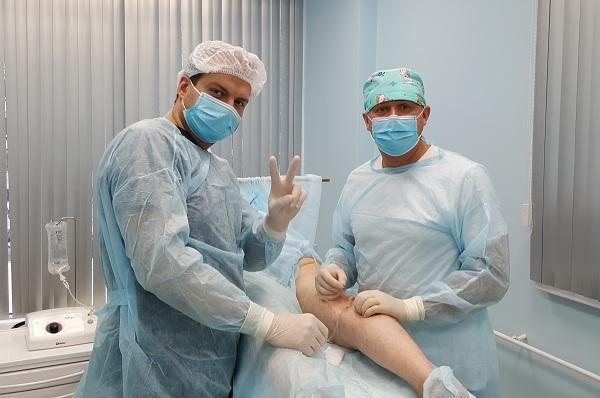 During the EVLO with Dr. Solomakhin A.Ye.
The meeting of the heads of the phlebology clinics "CIF" and "MIFC" Anton Evgenievich Solomakhin and Artem Yuryevich Semenov turned out to be very interesting and fruitful. Various aspects of laser interventions, the nuances of tumescent anesthesia and the subtleties of miniflebectomy performance were discussed.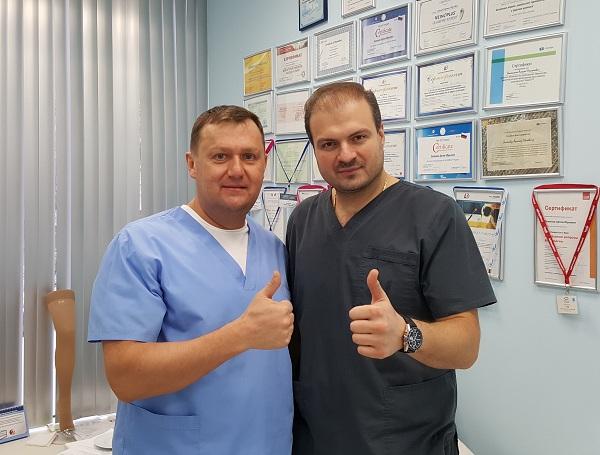 Heads of "MIFC" and "CIF" Semenov A.Yu. and Solomakhin A.E.
The development of domestic phlebology is proceeding with leaps and bounds. More and more in Russia there are high-quality specialists phlebologists, as well as good clinics, equipped with the most modern equipment.
Only communicating and interacting with fellow phlebologists can be constantly developed, finding new ways of improvement.