A friendly visit to the MIFTS of the Head of the Vascular Service of the Alexander Hospital in St. Petersburg Chernykh K.P.
On October 20, 2017, the "Medical Innovative Phlebological Center" was visited by the head of the Vascular Service of the Alexander Hospital in St. Petersburg, vascular surgeon, phlebologist Konstantin Petrovich Chernykh.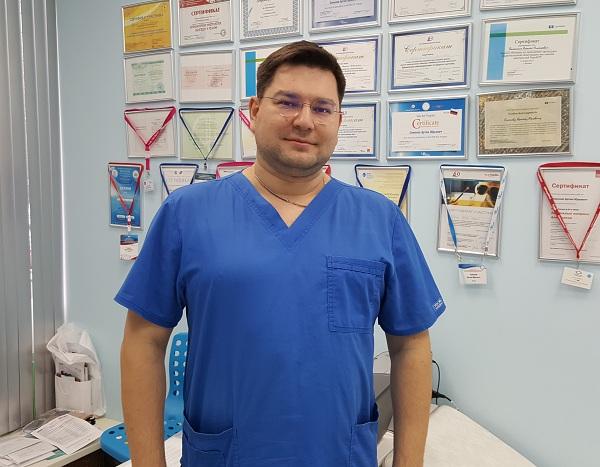 Vascular surgeon, phlebologist Chernykh Konstantin Petrovich
Chernykh Konstantin Petrovich - Full member of the Association of Angiologists, Phlebologists and Vascular Surgeons of Russia, a member of the Association of Cardiovascular Surgeons, a member of the St. Petersburg Association of Phlebologists, a member of the Russian Society of Surgeons.
In 2006 year he graduated from the Smolensk Medical Academy, then before 2010 he worked at the SRI of St. Petersburg Emergency Medical Services as a surgeon and vascular surgeon. Since 2010 year, he went to work as a vascular surgeon in the Railway Hospital of St. Petersburg. Since 2013 year and up to the present time he is the head of the vascular service of the Alexander Hospital in St. Petersburg.
During the work of Konstantin Petrovich, thousands of operations on the arteries and veins of the lower extremities were performed. He is fluent in all endovascular methods of treating varicose veins.
Currently, Konstantin Petrovich Chernykh is working on a thesis devoted to endovascular interventions in patients with relapses of varicose veins complicated by thrombophlebitis.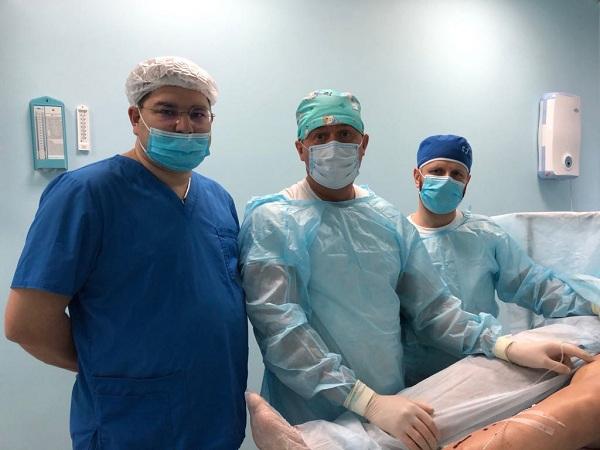 Surgeons-phlebologists "MIFC" Semenov A.Yu. and Kalachev I.I. from Black K.P. before surgery
During his visit to our phlebology center, 5 endovascular laser operations were performed in patients with major forms of varicose veins, large trunk diameters, trophic ulcers and acute thrombophlebitis. All laser interventions were accompanied by a mini varlebectomy according to Varadi.
Phlebologist surgeon Chernykh K.P. in the operating room "MIFC"
During the operations, Konstantin Petrovich was interested in various aspects of both the procedure itself, and the preoperative preparation of patients, the rehabilitation period. Given that the doctor performs laser interventions in St. Petersburg's lower limb veins, his questions were very clear and understandable, to which it was a pleasure to respond.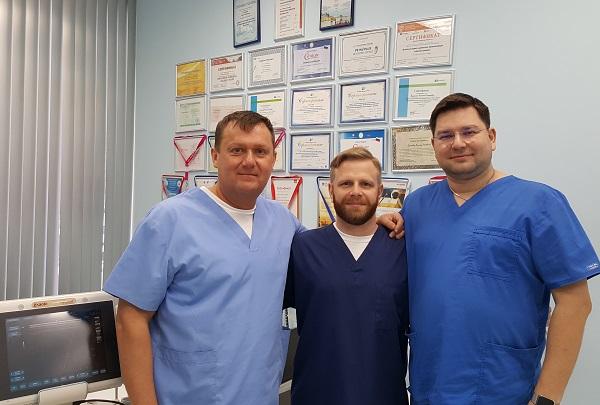 Joint photo Semenova A.Yu. and Kalacheva I.I. as a keepsake with Chernykh K.P.
We are glad that surgical phlebologists from different cities of Russia come to our center. We are happy to show all that we can and share our experience.