Master class: "We remove varicose veins and blood clots without surgery. Sclerosing is dangerous! ", Moscow, 13.03.2019.
"Fitosalon or miracles of osteopaths"
13 March of this year in the center of Moscow, at ul. Novoslobodskaya 20, held a unique event in its format, content and essence. Master class on the topic: "We remove varicose veins and blood clots without surgery. Sclerosing is dangerous! "
Intriguing, at least, the headline left no doubt, it should be a bomb. Well, in the sense, take care of the mind, the brain may explode.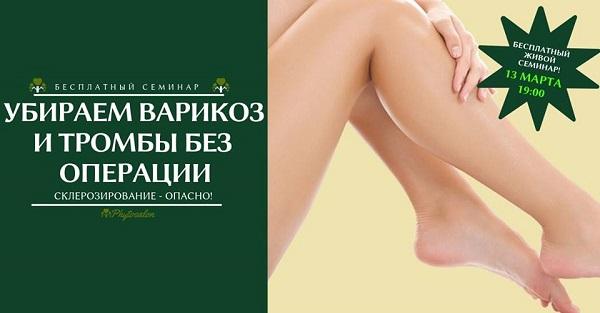 The event was held by Tatyana Vladimirovna Kubantseva, a pleasant woman: an experienced physician, therapist, phytotherapist, osteopath, hirudotherapist, nutritionist, acupuncturist (more than 20 years of practice!). It took place in a rather cozy atmosphere, in a small room with a chalk board and ten chairs, seven of which remained free. I do not want to dwell in detail on the full composition of those present, but the target audience was completely absent, which was somewhat pleasing.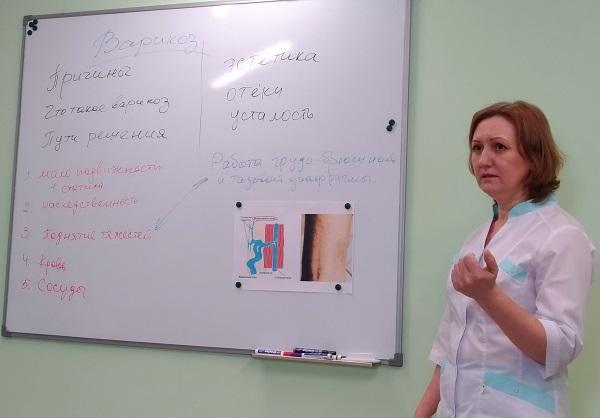 Reported by Dr. Kubantseva T.V.
Tatyana Vladimirovna voiced a somewhat alternative version of the pathogenesis, clinic and, accordingly, the treatment of varicose veins. Somewhere, the information was probably originally intended more for hemorrhoids (regarding pathogenesis in particular), but here we were talking exclusively about varicose veins of the lower extremities.
It was about the work and the role of the abdominal and pelvic diaphragm in the development of varicose veins. In general, the atmosphere of the event is mental, as if it brought us years ago, into the turbulent, ebullient and chaotic nineties of the last century. In the process of the narrative, the thought that not only the last decades of the development of phlebological science, but also earlier and fundamental milestones, was completely erased from world medical history. Alexei Alekseevich Troyanov, Friedrich Trendelenburg, but what is it, Hippocrates and Galen, were these people at all, did they write their works? It turns out that there are more progressive theories, both of development and of treatment, varicose veins, and phlebologists know about them, but naturally, they hide this from patients. This is because phlebologists do not have access to truly radical methods of treating varicose veins. They would like to, but ... not fate. They don't own cranio-sacral therapy. However, osteopaths have this opportunity.
It is very difficult, as a surgeon, to treat diabetes, hypertension and other nosologies in which you are, corny, incompetent. Inevitably, you will encounter errors and complications of such treatment, sometimes fatal. But herbalists, osteopaths, it turns out, are well versed in fundamental surgical pathology, can afford to ignore the postulates and principles of evidence-based medicine. The hope that the stage of the "wild field" remained in the past was a little comforting, and this was clearly shown by the composition and number of those present at the event. The dashing 90s have sunk into oblivion, but probably not for everyone. Magic compression boots from space prices, Dr. Kubantseva will probably remain in demand now. Their target audience thinned out, and only the most devoted fans remained. The economic turmoil of the last 30 years has not passed without a trace, and the population of our country less and less believes in tales and miracles. We are not as fast as we would like, but we are inevitably moving towards the triumph of evidence-based medicine. Phlebology in our country is one of those few medical disciplines where we keep pace with the times. We use the same terminology with leading experts in Europe, the USA, and Asia, we work using the same diagnostic and treatment technologies, our results are certainly no worse.
I have no idea how the techniques promoted by Tatyana Vladimirovna help increase the likelihood of pregnancy and lose weight, but I absolutely know exactly what complications a varicose disease leads to in the absence of proper and timely treatment. The discrediting of the medical profession in modern Russia has reached some apocalyptic scope. The overload of doctors in state hospitals, not always reasonable prices in private medical centers, is there really a new wave of shamanism and medicine, a new flowering of pseudoscience and obscurantism? I want to believe that no.