Scientific seminar for phlebologists "MIFTS:" Venous thromboembolic complications ", Moscow, 18.03.2019
On March 18, 2019, a scientific seminar "Treatment of venous thromboembolic complications and prevention of their recurrence in real clinical practice: opportunities, difficulties, mistakes" was held in the conference hall of the phlebology center "MIFC", at Moscow, Yakornaya street 7, building 1. The event was hosted by Vyacheslav Valentinovich Andriyashkin, professor, vascular surgeon of the Pirogov Russian National Research Medical University.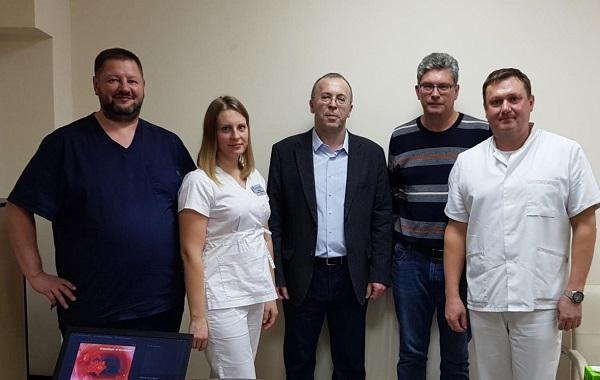 Professor Andriyashkin V.V. with phlebologists of the "MIFC" center
Venous thromboembolic complications have always been the cause of a huge number of patient deaths. Modern statistics only voiced these terrifying numbers. About 300 of thousands of people in the United States, up to half a million in the EU countries die annually due to pulmonary embolism. These are countries with one of the highest living standards and exemplary medicine. Mortality statistics from VTEO in Russia are less transparent, but even according to indirect data, we annually permanently lose the population of a small city.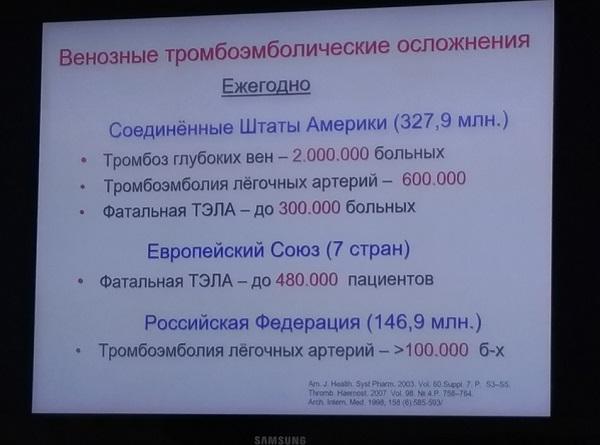 Statistics of venous thromboembolic complications (VTEC)
The venous thromboembolic complications are based on deep and superficial vein thrombosis. European and American doctors are far from sinless, but it should be admitted that in our country there are much more errors in the treatment and diagnosis of venous thrombosis. Late diagnostics, not always functioning continuity between hospital and polyclinic, untimely termination of therapy, the list of reasons why we are "worse" can be continued for a long time.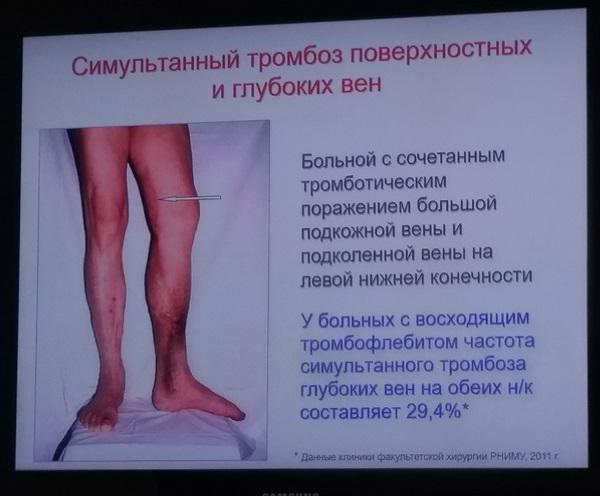 Vyacheslav Valentinovich told about the modern approach to the diagnosis and treatment of these pathologies. Dr. Andriyashkin paid special attention to the conservative treatment of thrombosis. Anticoagulation today is central to the treatment of this pathology, both in Russia and abroad. The methods of thrombolysis, venous bypass surgery are becoming more and more developed and spread, but they are inevitably supplemented by anticoagulant therapy. Today there is a sufficient selection of drugs in this segment. Among them, it is especially worth highlighting the group of direct oral anticoagulants.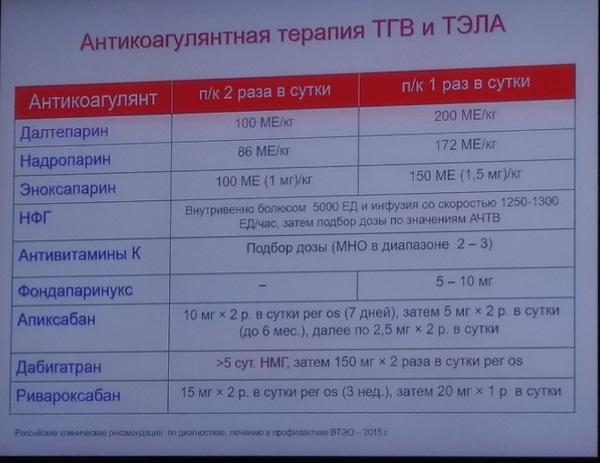 Anticoagulant therapy of DVT and pulmonary embolism
They have high and, most importantly, predictable effectiveness. A fairly convenient method of application also plays an important role, because the reception is carried out by patients independently and for a sufficiently long time. Especially Vyacheslav Valentinovich highlighted Elikvis (apixaban). According to a number of clinical studies, this drug has one of the best efficacy and safety profiles among its closest competitors. Also, Dr. Andriyashkin noted the importance of the regimen and duration of the drug. The success of therapy, as well as the likelihood of recurrence of thrombosis and thromboembolism, largely depends on this.
Conservative therapy remains one of the most important links in the treatment and prevention of even such serious diseases as venous thromboembolic complications. Modern pharmacology offers very good solutions in the form of tablet forms of anticoagulants, which greatly simplify the life of both doctors and patients.