A friendly visit to the "MIFC" phlebologist from Kursk Alexander Alexandrovich Sinitsyn, Moscow, 26.03.2021.
On March 26, the leading phlebologist of Kursk and the Kursk region, Alexander Alexandrovich Sinitsin, paid a friendly visit to the Innovative phlebological center. During the visit, an exchange of experience took place with the head of the Moscow Center for Phlebology, vascular surgeon, candidate of medical sciences Artyom Yuryevich Semyonov.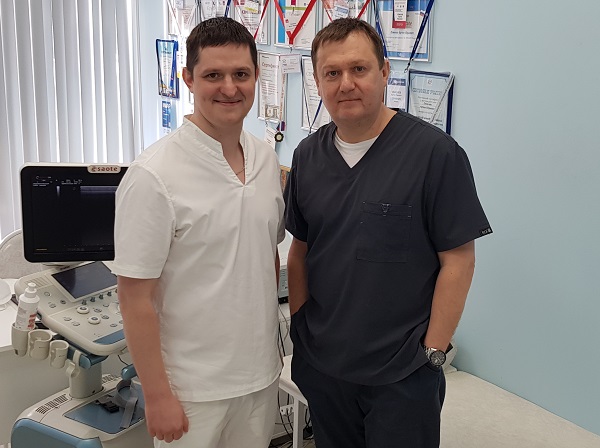 Phlebologists A.A. Sinitsyn and Semenov A.Yu. at the phlebology center "MIFC"
Alexander Alexandrovich Sinitsyn is a full member of the "Association of Phlebologists" (AFR), "Russian Society of Angiologists and Vascular Surgeons" (ROAiSH, "National College of Phlebologists" (NKF), "Russian Scientific Society of Interventional Cardioangiologists" (RNOIC).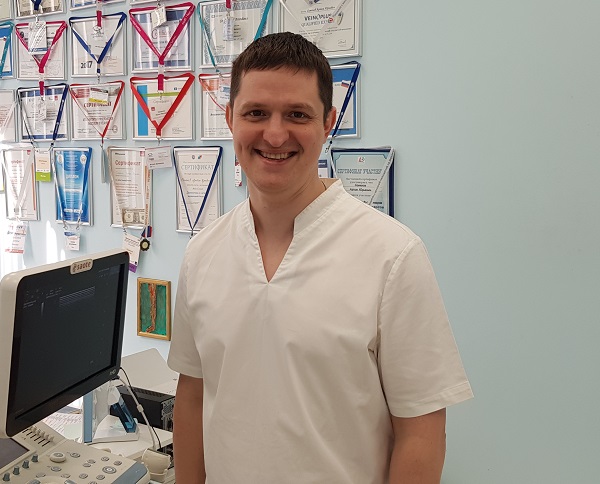 Sinitsyn Alexander Alexandrovich, vascular surgeon, phlebologist, Kursk
Alexander Alexandrovich Sinitsyn graduated from Kursk State Medical University with a degree in General Medicine in 2004. Since 2005, Dr. Sinitsyn has been actively involved in phlebology problems, successfully applying modern technologies for the diagnosis and treatment of diseases of the venous bed. Alexander Alexandrovich applies in his practice modern methods of treating varicose veins: endovenous laser obliteration, miniflebectomy. Also, Dr. Sinitsin owns modern technologies for dealing with aesthetic vascular problems: liquid and foam sclerotherapy. In addition to treating pathologies of the vascular bed, Alexander Alexandrovich is actively involved in the problems of lymphedema. Currently, Dr. Sinitsin works as a phlebologist, vascular surgeon, ultrasound doctor at the Kursk Regional Clinical Hospital and the Mir Zdorovya commercial clinic (Kursk).
During his visit to the Innovative Phlebological Center, Dr. Sinitsyn discussed with the head of the MIFC, Artyom Yuryevich Semyonov, the intricacies of modern endovascular interventions on varicose veins. The main topic in the exchange of experience was the nuances of practical activities on the new laser generator with a wavelength of 1940 nm. The innovative phlebological center has the largest practical experience in this, the most modern for today, laser equipment. Working on the latest endovascular equipment has its own, rather specific, features, which you just need to know for successful practice.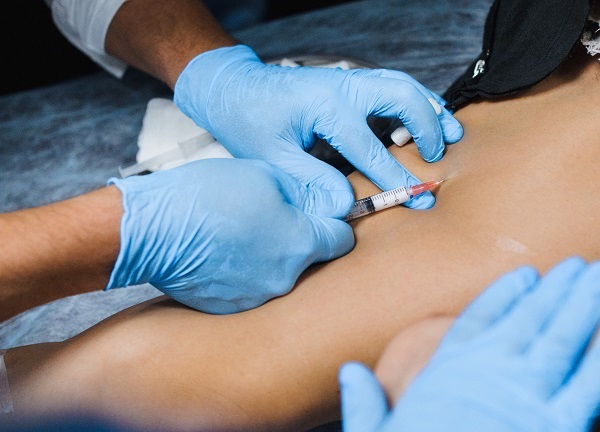 Sclerotherapy performed by Dr. Semenov A.Yu.
The specialists also shared their experience in performing aesthetic procedures for compression sclerotherapy on varicose, reticular veins and telangiectasias. Artyom Yurievich demonstrated the filigree performance of various sclerobliteration techniques.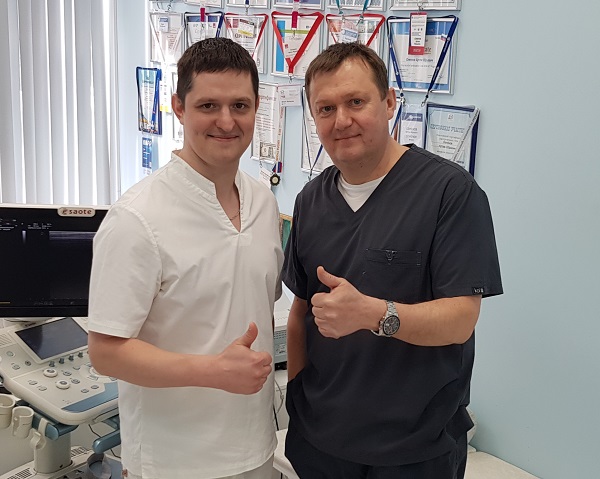 Sinitsyn A.A. and Semenov A.Yu. after a friendly meeting in Moscow
Communication with colleagues in a working environment, exchange of practical experience today are indispensable tools for development and progress in the professional field.