Master class for a surgeon, phlebologist from Izhevsk, Olga Vladimirovna Larchenkova, 15-16.09.2021. Moscow
On September 15 and 16, 2021, at the Medical Innovative Phlebological Center of Dr. Semenov (Moscow), another master class was held for a phlebologist surgeon from Izhevsk, Olga Vladimirovna Larchenkova.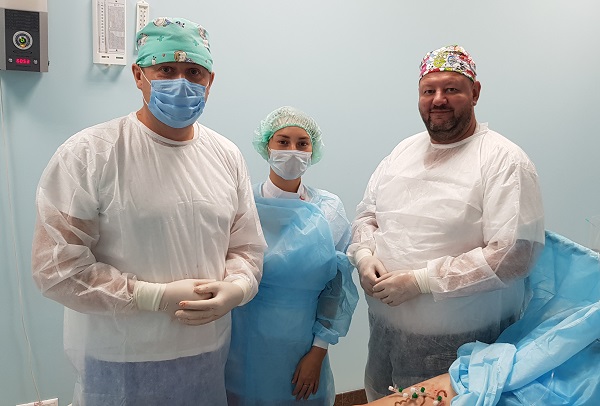 Semenov A.Yu., Fedorov D.A. and phlebologist Larchenkova O.V. in the operating room "MIFC" at the master class
The master class was conducted by leading specialists of the Moscow Phlebology Center: head of the MIFC, vascular surgeon, candidate of medical sciences, Artyom Yurievich Semyonov (Moscow) and leading endovascular surgeons of the MIFC, candidates of medical sciences, Dmitry Anatolyevich Fedorov and Ivan Ilyich Kalachev.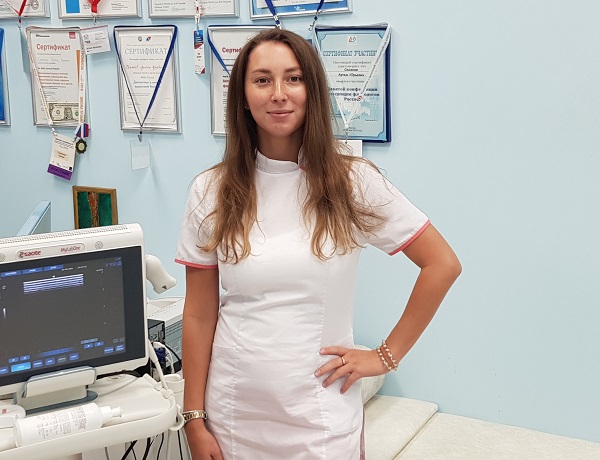 Larchenkova Olga Vladimirovna - surgeon, phlebologist, ultrasound doctor, Izhevsk
Olga Vladimirovna Larchenkova graduated from the Izhevsk State Medical Academy in 2019. Completed residency in the specialty "Surgery" at the Izhevsk State Medical Academy in 2019 - 2021. During her residency studies, she repeatedly took part in operations as an assistant, worked in a dressing room, was on duty for emergency surgery in the city in the abdominal and thoracic departments. Also, Dr. Larchenkova in her residency took part in surgical interventions on the veins, which gave rise to an interest in phlebology. Dr. Larchenkova combined her studies with work as a general practitioner in the budgetary health care institution of the Udmurt Republic "City Clinical Hospital No. 4 of the Ministry of Health of the Udmurt Republic". Currently Olga Vladimirovna works as a surgeon, phlebologist, in the clinic "Academy of Health", Izhevsk.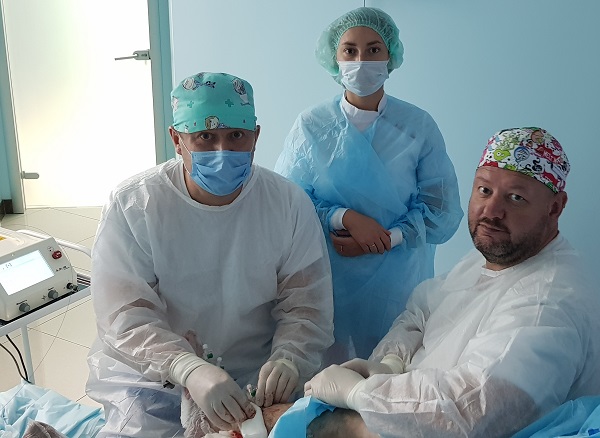 Phlebologists Semenov A.Yu., Fedorov D.A. and Larchenkova Oh.The. during laser surgery at "MIFC"
During the two days of the master class, September 15 and 16, eight innovative laser obliteration procedures were performed. Leading endovascular surgeons of the Moscow Innovative Phlebological Center performed total laser coagulation in the basins of large and small saphenous veins, as well as their varicose tributaries and varicose veins. All operations were carried out in the most modern version, which is currently only being mastered by endovascular vascular specialists from other phlebology clinics.
Phlebologists Semenov A.Yu. and Kalachev I.I. perform a demonstration Total EVLK for a cadet from Izhevsk
Artyom Yuryevich also performed the procedures of aesthetic and therapeutic sclerotherapy (sclerobliteration) on the lower extremities, commenting on the process of their implementation and focusing on the key points. During the master class, the head of the phlebology center, Artyom Yuryevich Semyonov, explained the course of the manipulations and answered Olga Vladimirovna's questions in detail.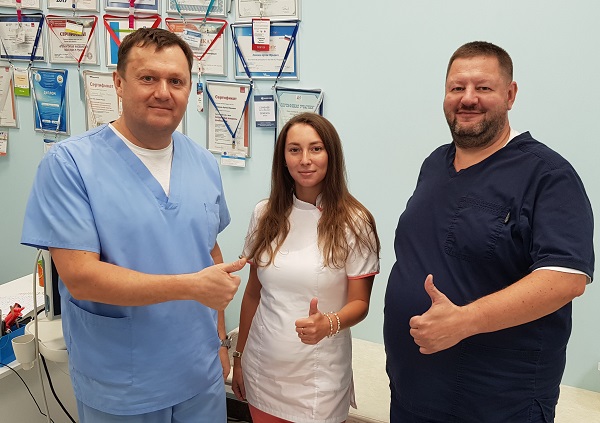 Surgeon phlebologist O.V. Larchenkova from Izhevsk with Semenov A.Yu. and Fedorov D.A. after the master class
We hope that the young specialist from Izhevsk received enough information to independently introduce the most modern technologies of laser phlebology into his own clinical practice.