Master class for a surgeon-phlebologist from Ufa Iskhakov R.I. and a specialist from Magadan Magomedov M.I., Moscow, March 16-19.03.2021, XNUMX.
The next master class at the Innovative Phlebological Center (Moscow), held from March 16 to 19, 2021, brought together specialists from various regions of Russia. It was attended by: a specialist from Ufa, Robert Ildarovich Iskhakov and a doctor from Magadan, Islam Islamovich Magomedov.
The master class was held under the partner advanced training program for doctors in conjunction with the Antireflux deep learning workshop in accordance with the license for educational activities No. 3346 dated 03.10.2019, under a program accredited in the system of continuing medical education of the Ministry of Health of the Russian Federation https://eduphlebology.com/lessons/courses/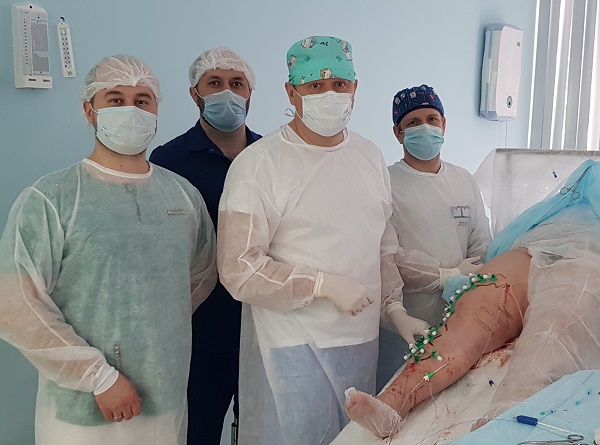 Semenov A.Yu. with phlebologists Iskhakov R.I. and Magomedov M.I. during the operation at the MIFC
The master class was conducted by: the head of the phlebological center, vascular surgeon, candidate of medical sciences Artyom Yurievich Semyonov, leading specialist of the MIFC center, surgeon-phlebologist, candidate of medical sciences Dmitry Anatolyevich Fedorov, leading phlebologist of the phlebology clinic, endovascular surgeon, candidate of medical sciences Ivan Ilyich Kalachev.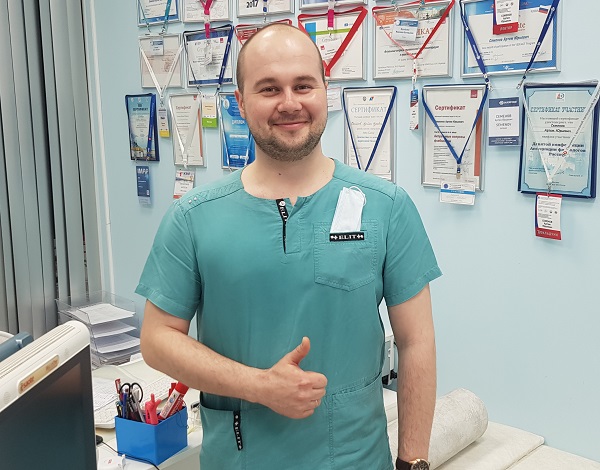 Iskhakov Robert Ildarovich - surgeon, phlebologist, ultrasound doctor (Ufa)
Robert Ildarovich Iskhakov graduated from the Bashkir State Medical University in 2012. In 2012-13, at the clinical base of the Belarusian State Medical University, he passed an internship in the specialty "surgery". In 2017 - primary retraining in the specialty "Ultrasound diagnostics". Doctor Iskhakov completed the qualification course "Endovenous laser obliteration, sclerotherapy and minimally invasive surgery of varicose veins" in 2019, Kazan. Currently he works as a surgeon-phlebologist, doctor of ultrasound diagnostics in the clinic "Varicose veins no", Ufa.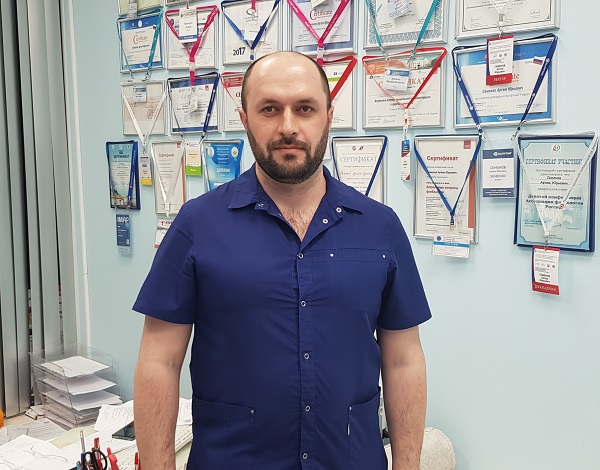 Magomedov Magomed Islamovich - surgeon, ultrasound doctor (G. Magadan)
Magomed Islamovich Magomedov graduated from Astrakhan State Medical University in 2011. 2011-2012 internship in the specialty "Surgery" on the basis of the ASMU, Astrakhan. Professional retraining in the specialty "Ultrasound diagnostics" in 2019. Currently, he works as a surgeon, a specialist in ultrasound diagnostics at the State Budgetary Healthcare Institution "Polyclinic No. 1", as an ultrasound doctor in a commercial clinic, Magadan.
In the course of the master class, operations were demonstrated in eight patients with a fairly diverse clinical situation.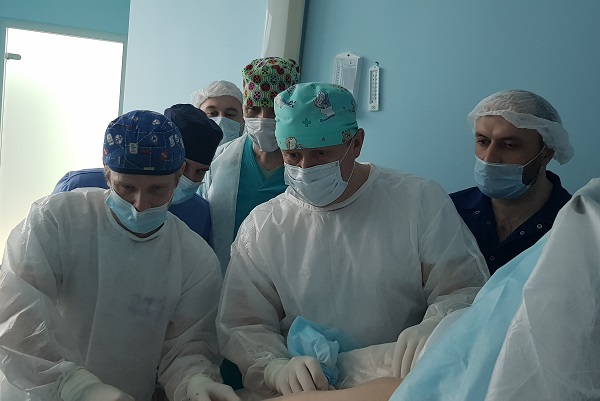 Phlebologists Iskhakov R.I. (Ufa) and Magomedov M.I. (Magadan) in the operating room of the MIFC during a laser procedure
Relapse of varicose veins, trophic venous disorders, extensive varicose veins of both lower extremities, concomitant somatic pathology, all this took place at this master class. Thirteen venous basins have been operated on with the help of modern endovascular interventions. These include nine large saphenous veins, two small saphenous veins, Giacomini's veins and Thierry's perforating vein. Six patients underwent total endovenous obliteration in ten venous basins, the most modern innovative intervention for varicose veins to date.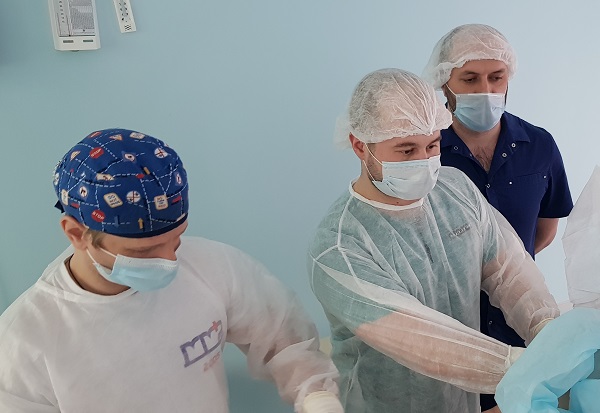 Deep immersion during a master class - phlebologist from Ufa Iskhakov R.I. assists in operations
Three patients had severe trophic disorders in the area of ​​operations. Only the skillful use of a modern laser with a wavelength of 1940 nm made it possible to perform radical interventions on the veins and help patients get rid of chronic pathology.
Also, in the course of the master class, procedures of aesthetic and therapeutic sclerotherapy were carried out in fourteen patients. All manipulations were carried out in accordance with the best European standards. The specialists of the Innovative Phlebological Center have significant experience in performing compression sclerobliteration and are always responsible for the result of the procedures performed.
The geography of specialists who have passed master classes at the Innovative Phlebological Center is expanding and becoming more and more diverse. Today we see that huge distances are no longer an obstacle.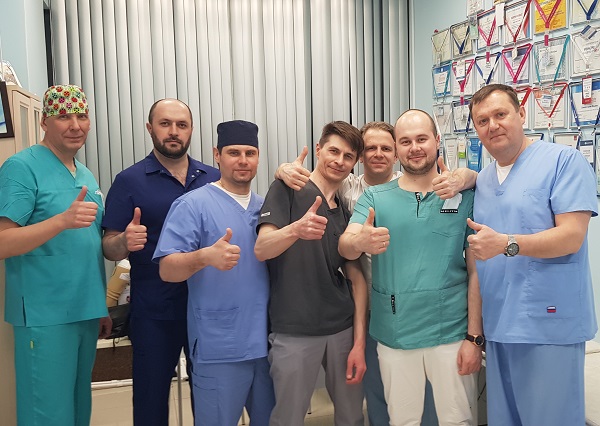 Another master class for phlebologists from Ufa and Magadan has ended
For those who want to learn, learn something new and interesting in the direction of "phlebology", today there are no insurmountable barriers to new knowledge and modern technologies.