Master class on modern methods of treating varicose veins for a surgeon from Orenburg Nikonov Petr Vladimirovich
On September 9, 2020, a master class was held at the Moscow City Phlebology Center on the use of modern medical technologies in the treatment of varicose veins.
The master class was held for a surgeon, phlebologist, from Novotroitsk, Orenburg region, Petr Vladimirovich Nikonov, leading phlebologists of the Moscow City Phlebological Center: vascular surgeon, phlebologist, candidate of medical sciences, Artyom Yuryevich Semyonov, leading phlebologists of the center, phlebologist, candidate of medical sciences, Ivan Ilyich Kalachev and phlebologist Alexei Mikhailovich Malakhov.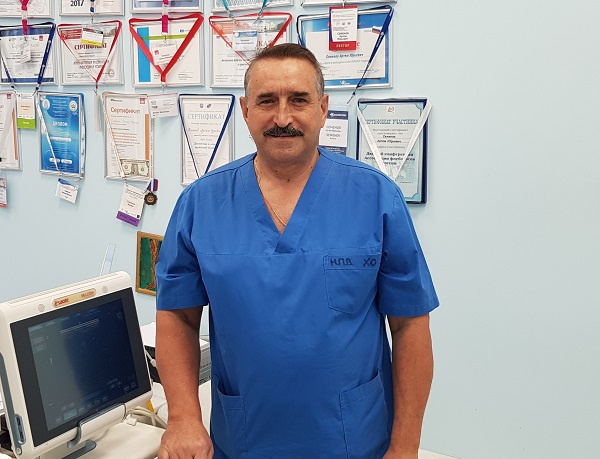 Phlebologist surgeon, Ph.D. Nikonov Petr Vladimirovich (Novotroitsk, Orenburg region)
Pyotr Vladimirovich Nikonov, a graduate of the Orenburg State Medical University in 1981, is currently the head of the surgical department of the emergency hospital in Novotroitsk. Petr Vladimirovich specializes in laparoscopic surgery, minimally invasive interventions, has the highest qualification category in surgery and ultrasound diagnostics. Doctor Nikonov is a candidate of medical sciences and has over 30 years of surgical experience. One of the leading directions in the practice of Petr Vladimirovich is the modern treatment of varicose veins.
As part of the master class, innovative interventions were carried out in patients with varicose veins of the lower extremities. The operations were performed using the latest laser equipment "Ire-Polis". An endovascular laser with a wavelength of 1940 nm was used.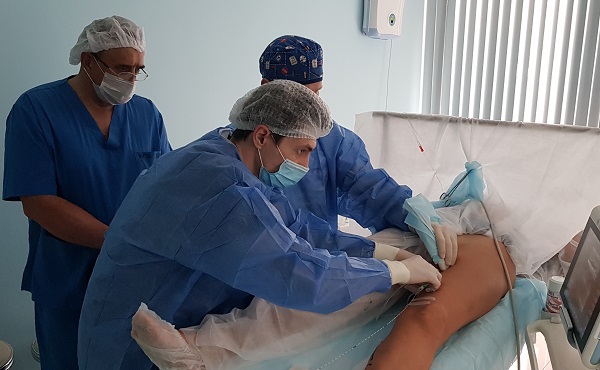 Nikonov Petr Vladimirovich during a laser operation at the "MIFC"
In addition to laser procedures, the patients underwent removal of varicose tributaries using the modern miniflebectomy technique. This surgical procedure has a good aesthetic effect and is one of the best technologies in modern phlebology.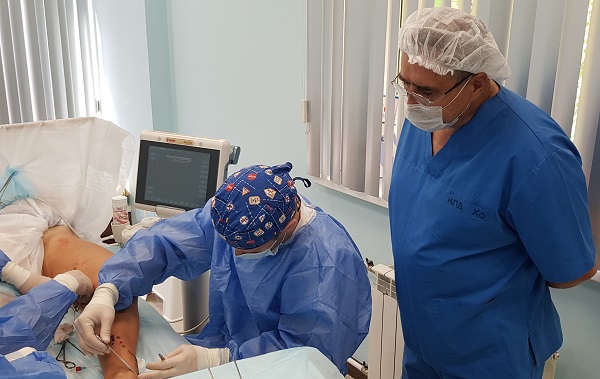 Demonstration of Varadi miniflebectomy procedure to Nikonov Petr Vladimirovich
Also, within the framework of the master class, a procedure for aesthetic sclerobliteration was performed in a patient with severe reticular varicose veins. Artyom Yurievich Semyonov, head of the Moscow City Center for Phlebology, brilliantly performed aesthetic sclerotherapy session on both lower limbs of the patient.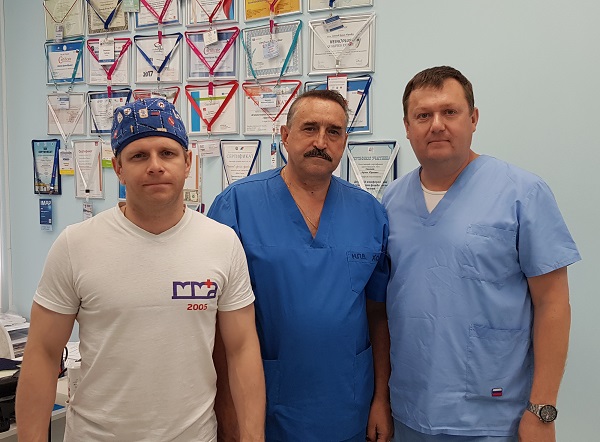 Nikonov Petr Vladimirovich with phlebologists "MIFC" after a master class
Despite the global world upheavals, the coronavirus infection, the doors of our phlebology center are open, and we are glad to new faces within our walls.