Trophic venous eczema of the lower extremities - symptoms, diagnosis and treatment
Contents:
Trophic venous eczema - what is it?
Trophic venous eczema is a pathological condition that occurs in the form of autoimmune dermatitis, that is, serous non-infectious inflammation of the skin (mainly the papillary layer of the dermis and epidermis), accompanied by symptoms of edema, redness, itching and pain.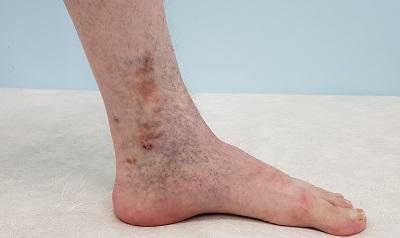 Trophic venous eczema
Venous eczema is a type and common form of eczema, which is caused by congestion in the skin due to impaired venous outflow. Venous eczema is also called varicose, congestive, or gravitational eczema. It often has a chronic (recurring) for. Pathology affects one or both lower limbs, combined with venous insufficiency. In the modern European, and most demanded by leading experts, classification of chronic venous diseases - CEAP, this pathology is designated as C4a. It is quite heavy tissue damage due to chronic venous edema.
Why does trophic venous eczema occur?
Venous eczema is most often observed in middle-aged and elderly patients - according to leading European dermatologists, it affects up to 20% of patients older than 70 years. This is due to the following reasons:
Phlebeurysm.
Postponed deep vein thrombosis of the affected limb.
The presence of venous trophic ulcers.
Cellulite transferred to the affected limb.
Chronic swelling of the leg, aggravated by hot weather and prolonged static position (standing).
The main reason for the appearance of pathology is varicose veins, so sometimes you can find the term "varicose eczema".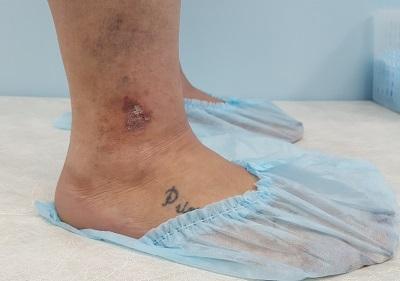 Venous eczema of atypical localization
Quite often, signs of eczema can also be found in young patients with a long history of varicose veins. There is no doctor, both in the state and in the private clinic, who would not observe venous eczema in patients up to 40 years old.
Causes of trophic venous eczema
What are the main causes of venous eczema?
Violation of the venous valves due to the expansion of venous vessels.
Changes in venous outflow, the formation of pathological discharge (reflux) of blood.
Pathological deposition of blood in the distal lower extremities.
The formation of an atypical immune response in the skin with impaired blood flow and the appearance of an inflammation reaction.
Trophic venous eczema is very bad
Varicose eczema has a chronic, recurrent course and a tendency to progression. Quite often you can meet a situation, especially in public hospitals, when only dermatologists are involved in the treatment of venous eczema. Given the main etiological component of the pathology, impaired venous outflow, the treatment of such patients takes years.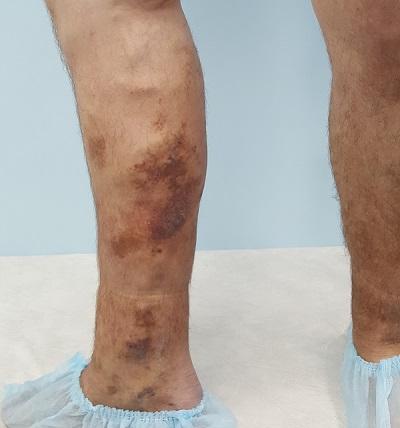 Chronic recurrent eczema on the right lower limb
The disease slowly recedes, but invariably reappears. Moreover, trophic changes in the lower extremities progress, lipodermatosclerosis joins, and then an ulcer appears.
Trophic venous eczema - symptoms
Congestive eczema, as a kind of dermatitis, has symptoms characteristic of it:
edema,
redness,
itching,
pain
Also, there are symptoms of varicose veins: varicose nodes, ultrasound signs of varicose veins.
Why does trophic venous eczema almost always appear on the lower extremities?
The answer to this question lies in the pathogenesis of varicose veins, the dominant cause of venous eczema. Varicose disease affects only the lower extremities, where trophic disturbances occur in the distal divisions according to the gradient of gravity. One of which is venous eczema.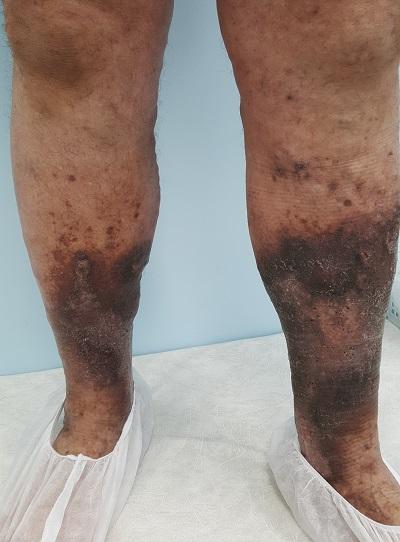 Trophic eczema of the lower extremities
Pathological eczematous changes in the skin of the lower extremities are most often caused by varicose veins, since it is precisely this that causes a violation of the venous outflow (up to 90% according to the leading experts of the region).
Trophic varicose eczema - variants of the course
Venous eczema tends to recur and chronic disease throughout life. Eczema also progresses, involving more and more new areas of the skin, infection often occurs, which can even lead to the development of a life-threatening condition. If untreated venous pathology, a leading factor in the development of eczema, trophic skin changes lead to the formation of an already stagnant ulcer. Which is much more difficult to treat.
Trophic venous eczema - diagnosis
Diagnosis of venous eczema in public and private urban medical institutions often begins in the office of a dermatologist, where a specialist assesses local changes in the skin. Here it is very important that the patient is promptly referred to a good phlebologist. If eczematous changes are associated with venous pathology, then treatment only of skin manifestations is likely to be ineffective. Even a visual examination of a phlebologist with the use of various functional tests often does not reveal the true cause of the pathology. At this stage, the best solution is a good ultrasound examination of the veins of the lower limbs.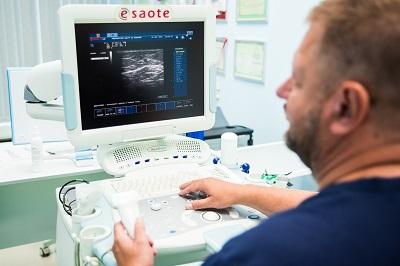 Ultrasound Diagnosis of Trophic Venous Eczema
Only competent modern diagnostics of the venous system will help determine the right treatment tactics.
Trophic eczema, treatment in Moscow
A good treatment of venous eczema in Moscow can be divided into local (topical effects on skin inflammation) and treatment of the venous system. In the first, often, a dermatologist is actively involved. Local treatment includes:
Ointments and creams, steroid drugs, both as part of the latter, and as part of systemic treatment.
The use of antibiotics and antiseptics when attaching an infection.
Often, in conditions of state medicine, patient care ends at the stage of the above topical treatment. This is not the best solution, since the disease is based on completely different reasons and the relapse of the disease will not take long. Namely, venous stasis, requiring a slightly different approach. It is very important that the patient in Moscow gets on time for an appointment and diagnosis to a good phlebologist who can determine the correct patient management tactics. The treatment of venous eczema is based on eliminating stasis and improving venous outflow of blood. Correction of the latter, most often, consists in the removal of pathologically altered varicose veins. The presence of innovative technologies in modern Moscow centers makes it possible to effectively treat even complicated forms of varicose veins, moreover, on an outpatient basis.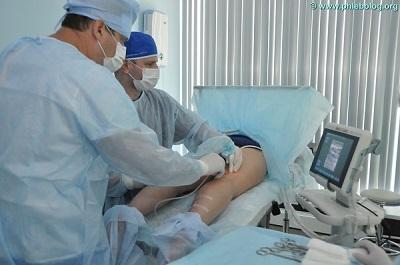 Treatment of trophic eczema in our phlebology center
The leading medical centers in Moscow for the treatment of venous pathology for this purpose use thermobliteration techniques. In a good city medical phlebological center, you can count on safe, effective treatment. Modern vein removal procedures are performed under local anesthesia through skin punctures with minimal surgical trauma.
Trophic eczema - home treatment, treatment with folk remedies
Leading specialists of the Moscow Innovation Phlebological Center categorically do not recommend independently treating venous eczema at home, especially with the help of the notorious folk methods. Since in this case, you will not only not get the effect of the treatment, but you may also encounter a number of new and even more serious complications.
Trophic varicose eczema - treatment without surgery
The main factor in the development of congestive eczema is the pathology of the venous system. Therefore, we cannot speak of any effective treatment without radical intervention. The best solution is to stop the inflammation and carry out the procedure for removing varicose veins. But is the operation so terrible?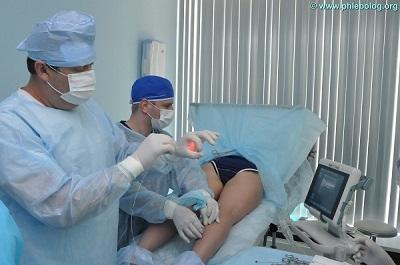 Trophic eczema - laser treatment in our center
Modern European vein removal technologies are not inferior to advanced manipulations in dentistry in minimizing surgical trauma and possible side effects. But today it would never occur to anyone to refuse treatment of caries because of fear of intervention.
Trophic venous eczema - laser treatment (EVLO, EVLK), treatment radio frequency (RFA, RCHO)
Given that the radical treatment of varicose eczema - a treatment of venous pathology, namely modern methods for the removal of varicose veins, and will be the main way to deal with the eczema. Today, the undisputed leaders at the forefront of the innovative treatment of varicose veins are the methods of thermal obliteration, laser and radio frequency. If we compare both technologies, then there are simply no fundamental differences for the patient.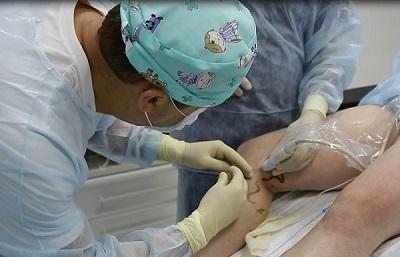 Treatment of trophic eczema with radio frequency
What are the advantages of thermobliteration technology:
Radicality and effectiveness (when used by experienced professionals, the result is, in fact, 100%).
Small invasiveness, the procedure is carried out through skin punctures.
Highest cosmetic.
Full ambulance, there is no need for anesthesia and hospitalization.
Safety and comfort of the procedure for the patient.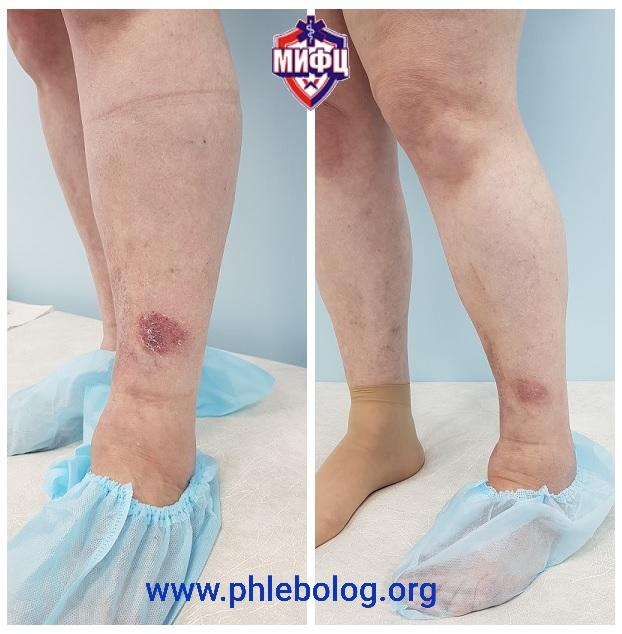 Laser treatment result for trophic eczema in 1 month
After the endovascular treatment, the symptoms of eczema quickly enough stop on their own.
Varicose eczema prevention
It is possible to prevent venous eczema if you are examined in a timely manner by a good phlebologist and treat varicose veins.
Also, the number and severity of outbreaks of eczema can be reduced by the following measures:
Avoid prolonged standing or sitting with legs down.
Wear compression socks or stockings for extended static loads.
Apply emollients regularly to dry skin prone to irritation.
The results of the treatment of trophic venous eczema. Photos before and after treatment
Result of treatment of trophic eczema by endovenous laser treatment (EVLK) on German Biolitec technology in our center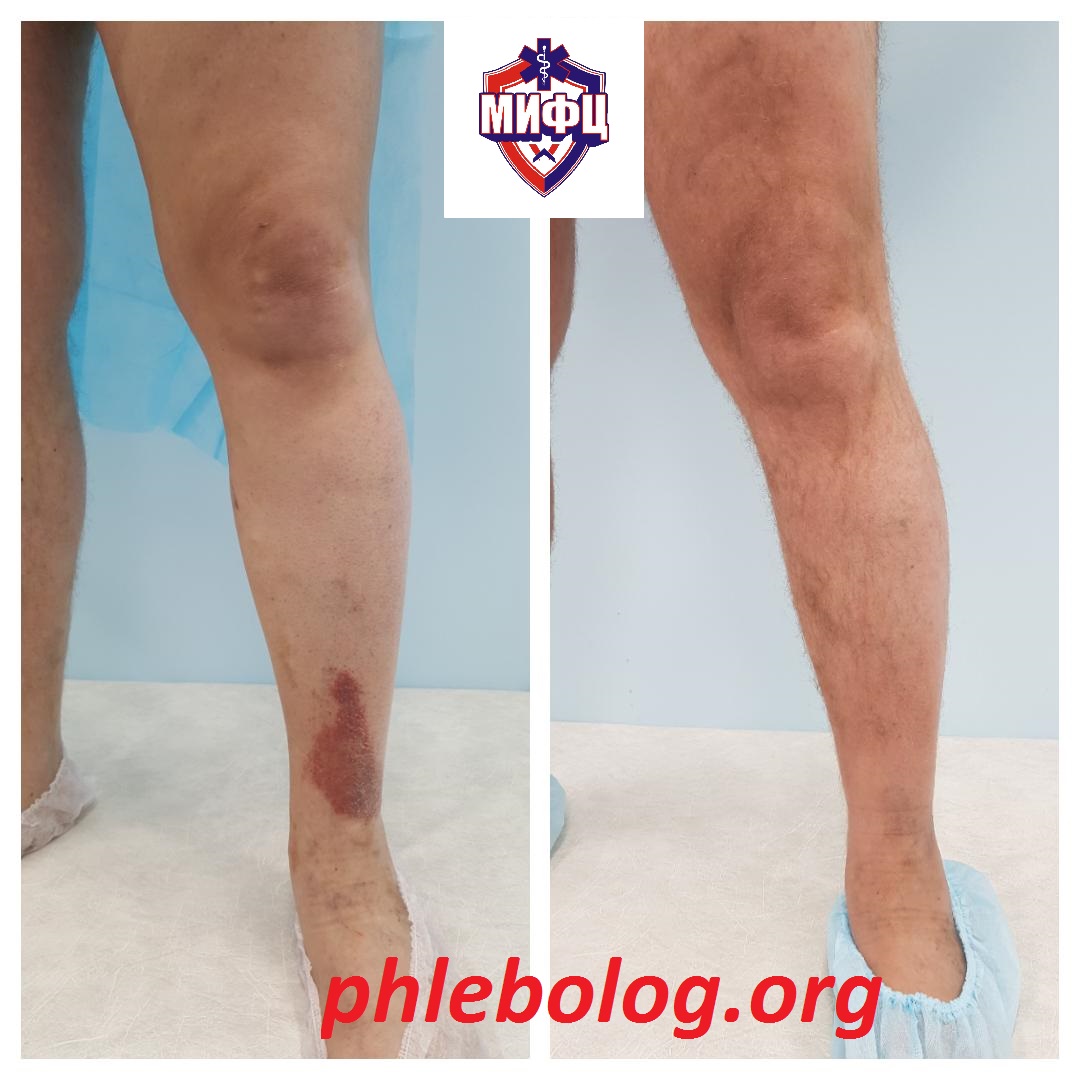 Photos before and after the treatment of venous eczema on the left lower limb
The result of treatment of trophic venous eczema by radiofrequency ablation (RFA) in our patient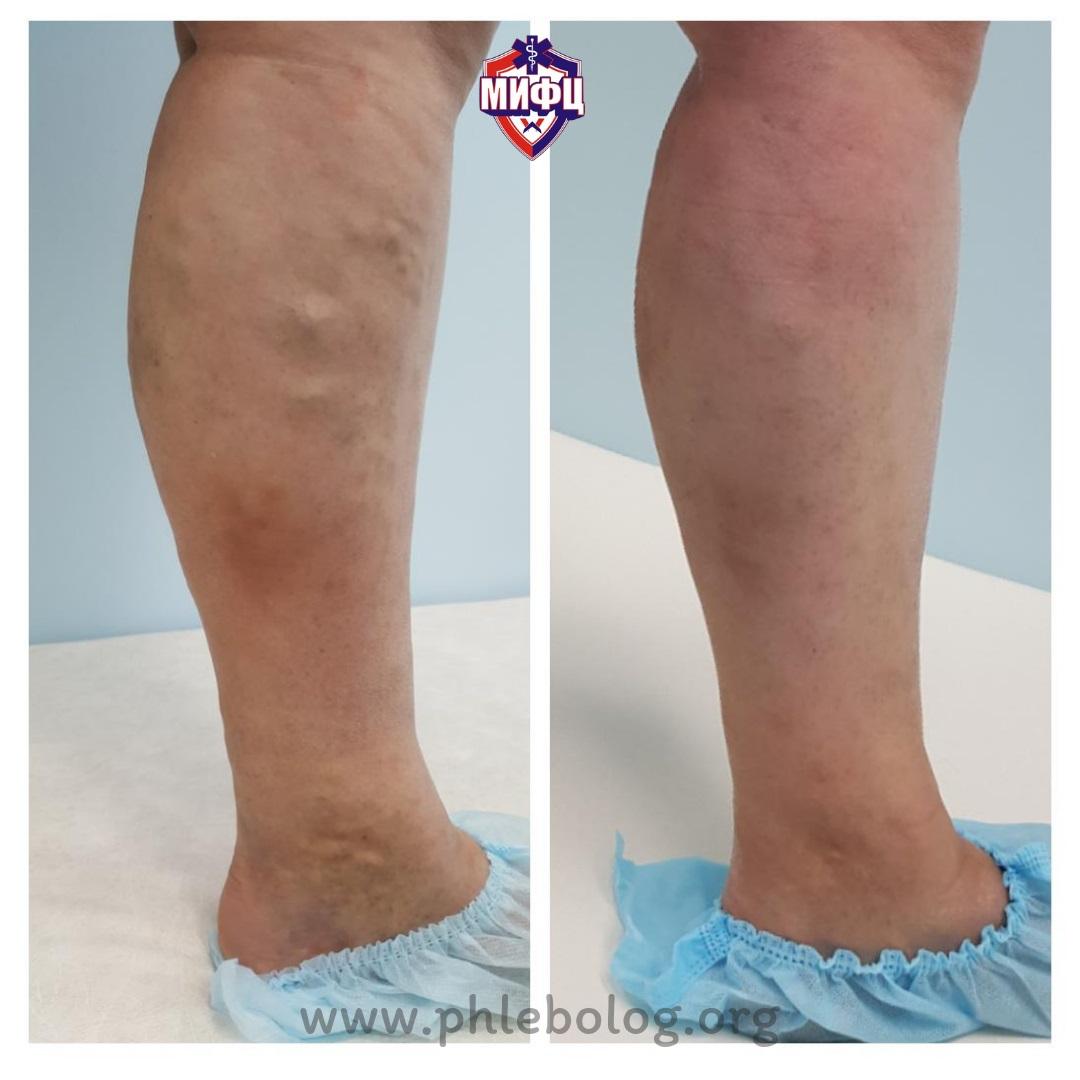 Photos before and after treatment of trophic venous eczema on the left lower limb
Online Patient FAQ for Trophic Venous Eczema
How to treat venous eczema of the legs in Moscow? Natalia asks from Moscow:
Dear Natalia! For a good treatment of venous eczema of the lower extremities in Moscow, you need to contact a competent specialist, phlebologist. The doctor will conduct a detailed diagnosis, including an ultrasound scan. Only after this can we talk about modern treatment. The best solution would be to find a good city phlebological center where the phlebologist himself will perform the ultrasound.
What is the modern treatment for venous eczema of the legs in Moscow? Ekaterina from Moscow is interested in:
Dear Catherine! In Moscow, a good modern, meeting European standards, treatment of venous eczema includes innovative technologies, both diagnostics and treatment. Leading city phlebological centers, including our Moscow Innovation Phlebological Center, are successfully treating venous eczema. First, a detailed duplex angioscanning of the venous system of the lower extremities is performed. Only then treatment is prescribed, including the fight against local inflammation and modern treatment of the true cause of eczema, varicose veins.
How to treat venous eczema with folk remedies? Elena asks from Yekaterinburg:
Dear Elena! Specialists of the Moscow City Phlebological Center have good experience in working with various trophic disorders in venous diseases, including venous eczema. Leading phlebologists of our center do not recommend treatment of venous eczema with folk remedies. The disease responds well to treatment with the help of modern technologies, but we often also encountered serious complications after treatment with folk remedies.
My mom has venous eczema on her legs, which doctor is the best to go to? Nikolay asks from Bryansk:
Dear Nicholas! If you suspect that your mother has venous eczema, it is better to first turn to a good phlebologist, a doctor specializing in the diagnosis and treatment of vein pathology. First you need to understand the cause of inflammation in the lower extremities. You may need the help of a dermatologist. If eczema is of venous origin, now there are modern European technologies with which to cure your mother will not present any special problems.
What are the underlying causes of venous eczema? Olga from Ivanovo is interested in:
Dear Olga! From the standpoint of modern science and medicine cause of venous eczema - a violation of the outflow of lower limb blood formation against a background of stagnation autoimmune inflammation. To the existing edema, due to venous insufficiency, inflammatory edema, itching, redness, and pain are added.