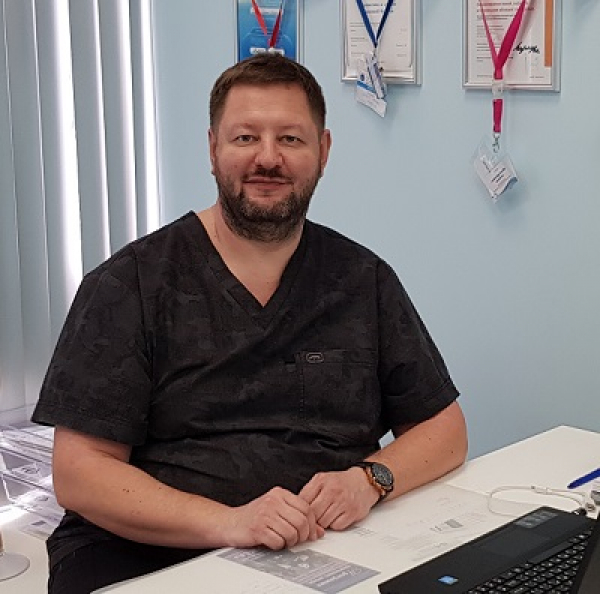 Leading specialist of the phlebology center "MIFTS". Cardiovascular surgeon, endovascular surgeon, aesthetic phlebologist, doctor expert in ultrasound diagnosis of lower extremity veins, candidate of medical sciences.
Contents:
Professional activity
Fedorov Dmitry Anatolevich, 1969 b. graduated from the Moscow Medical Academy. THEM. Sechenov in 1993. After that, in 1994 he graduated from the clinical internship in cardiovascular surgery, and in 1996 he graduated from clinical residency majoring in surgery.
After graduating from the MMA. THEM. Sechenova worked in the department of general surgery of the Russian Scientific Center for Surgery named after academician B.V. Petrovsky until 2003 year.
Since 2003. I went to work in the "Medical institution on the problems of phlebology" (Moscow), where the main field of activity was the treatment of varicose veins of the lower extremities.
In 2004 year he co-authored the invention on the topic "Method of treatment of varicose veins of the lower limbs", which was obtained "Patent for invention No. 2264176, registered in the State Register of Inventions of the Russian Federation 20 November 2005."
Since 2015 he has been working as a leading phlebologist in the clinic "Niarmedik-Obninsk".
Since January, 2018 of the year has been a leading surgeon-phlebologist at the Medical Innovative Phlebological Center.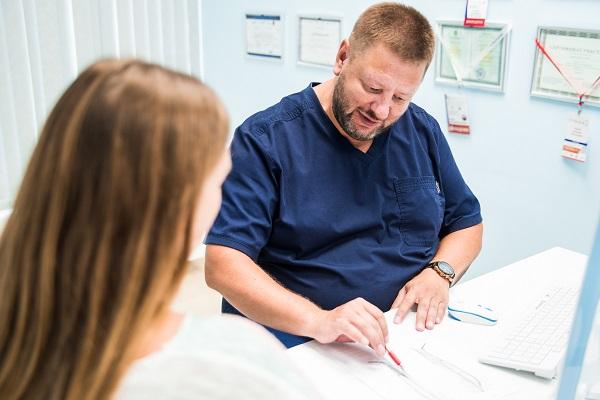 He is consulted by the leading phlebologist "MIFTS", a cardiovascular surgeon, an ultrasound doctor, MD Fedorov D.A.
Scientific activity
Dmitry Anatolyevich Fedorov is the author of 50 scientific works on various topics of general and vascular surgery. Among them are articles on the treatment of oncological diseases of the abdominal cavity, various operations using laparoscopic techniques. Much attention is paid to such scientific and practical aspects of modern surgery as the treatment of hernias (herniology) and varicose veins of the lower extremities (phlebology). Actively participated in the creation and promotion of the "Professional Society of Russian Herniology Surgeons".
In 2002 on the basis of the Russian Scientific Center of Surgery of the Russian Academy of Medical Sciences. B.V. Petrovsky defended his thesis.
D.A. Fedorov actively participated in the phlebological conferences of the "Association of Phlebologists of Russia" (AFR), made presentations at the VI conference of the Association of Phlebologists of Russia 2006, the Anniversary Conference in Tyumen 2014, "Man and Medicine - Ural 2014" on the topic of laser technologies in the treatment of varicose veins. He participated in the conferences of PRA 2008, 2012, 2014 - 2019gg.
At the next conference, Ph.D. Fedorov D.A.
In 2009, Mr .. passed training on the development of laser techniques in surgery, including. and phlebology, after which he began to actively use the technique of EVLK (endovasal laser coagulation) in the daily treatment of patients with venous disease.
In 2015. I studied at the Higher Professional Education University "Russian National Research Medical University. NI Pirogova "specialty" Ultrasonic diagnostics ".
Repeatedly increased his scientific and practical level by passing courses of improvement of doctors on various, including phlebological subjects in 2006, 2011, 2014 - 2017gg:
From 2006 to 2012 D.A.Fedorov taught in the post of associate professor at the Department of the FPPU of the First Moscow State Medical University. I.M. Sechenov. From 2012 to 2017 read a series of lectures on phlebology at the Federal State Institution "State Scientific Center of Laser Medicine of FMBA of Russia".
Certificates
Patent for a method of treating varicose veins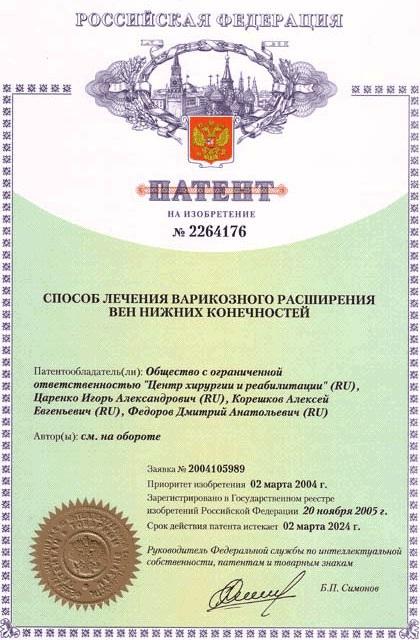 Patent for the invention of Dr. Fedorov D.A.
The methods of treatment used by Dr. Fedorov D.A.
Dmitry Anatolyevich performs treatment for varicose veins using the RFA and EVLK techniques:
endovenous laser coagulation (EVLK)
radiofrequency ablation of Closure FAST (RFA).
In everyday practice, he uses all the latest methods of sclerotherapy: microsclerotherapy, ozonosclerotherapy, microthermocoagulation and microfamily Foam-Form sclerotherapy.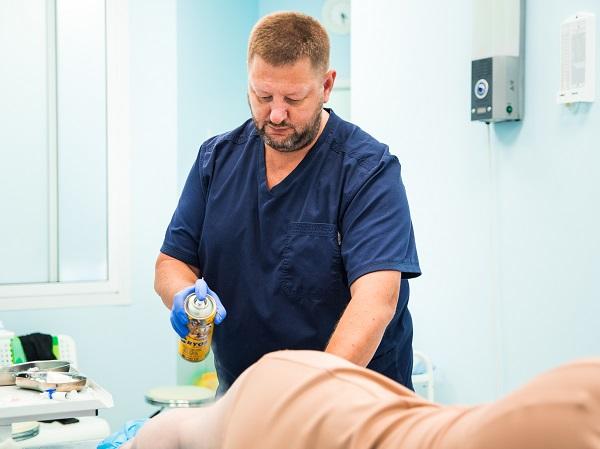 Dr. Fedorov D.A. holds a session of sclerotherapy of the lower extremities
Surgeon-phlebologist Fedorov D.A. in the clinic "MIFTS" performs all types of surgical interventions for varicose veins of the lower extremities, both outpatient and in the hospital on the same day: crossectomy, miniflebectomy, microflebectomy, combined phlebectomy.
Reviews of patients about the phlebologist Fedorov D.A.
Patient review of treatment at our center by the surgeon-phlebologist Fedorov Dmitry Anatolyevich
Troubles Tatyana Nikolaevna, Obninsk. 04.10.2019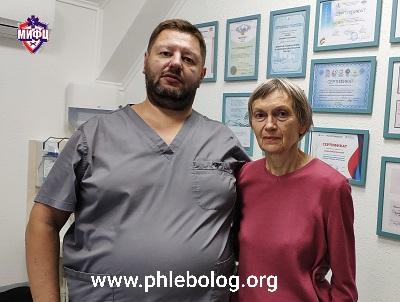 My grateful review about Dr. Phlebologist Fedorov Dmitry Anatolyevich.
I first met him in June 2010. At that time I was 57 years old. I have developed varicose veins on my legs since 30 years, and by this age I was already actively seeking the help of a phlebologist. A friend helped me, advised me to contact the Moscow clinic for phlebology problems, on Vasilisa Kozhina Street. The first examination was conducted by Dmitry Anatolyevich, said that he could offer an outpatient operation and soon performed complex surgical operations requiring accuracy.
This was followed by careful maintenance and correction during the 6 months, with strict implementation of recommendations. The treatment was not tolerated. The difficulties were different: the 2010 summer was very hot, there was smoke from forest fires in the cities, interruptions in the movement of electric trains, but all this was blocked by gratitude to the doctor for my "light" legs.
My disease is chronic. Time passed, I felt the need to see a doctor again and was about to call the Moscow clinic when I found out that a phlebologist was working at Kolomenskaya, in the MIFC clinic, and that was Dmitry Anatolyevich Fedorov. What a joy! THIS IS MY DOCTOR!
So in April 2017 of the year I met with Dmitry Anatolyevich for the second time, with his big skillful hands. This time he had me undergo laser surgery on both legs. The operation is tolerated very easily. After leaving the operating room, you can continue to engage in your normal life. And these are not words of advertising. This is the doctor's possession of modern, high-tech treatment methods. I especially want to note that Dmitry Anatolyevich generously shares his professional knowledge, both of my operations were attended by doctors to whom he shared his experience.
Dear Dmitry Anatolyevich, I sincerely thank you for the health of my legs, for your high professionalism. Troubles Tatyana Nikolaevna, Obninsk. 04.10.2019
Patient review about surgeon phlebologist Fedorov Dmitry Anatolyevich
Latynov Victor Leonidovich, Moscow. 31.10.2019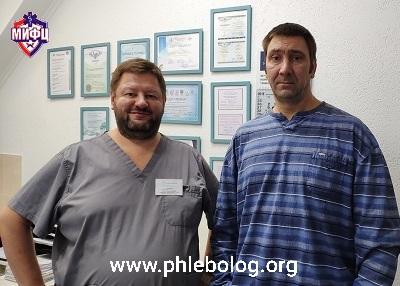 With thanks to Fedorov Dmitry Anatolyevich!
My name is Latynov Victor Leonidovich, 59 years. Varicose veins on both legs became noticeable from the 2005-2006 years. I could not immediately deal with this problem, there were many trips to work. Over time, I realized that pulling further is no longer worth it. At 2016, I wanted to go for an operation in an open way - a phlebectomy, but found out that in my case it would take a very long time to recover, and refused the operation.
In the fall, 2018, turning to the phlebology clinic, found out about the possibility of laser treatment. He consulted at a reception with a phlebologist - Dmitry Anatolyevich Fedorov.
2 February 2019 Dmitry Anatolievich performed an operation on endovasal laser coagulation on both legs. The condition of the veins, especially on the right leg, was difficult and the operation lasted longer than planned. I expected that it would be painful, but, fortunately, the expectations were not confirmed, thanks to the doctor! Honestly, I did not expect that right after the operation I would get home without any problems. I would like to note the professionalism of the doctor and nurses, very comfortable conditions for the operation. The medical equipment used is very impressive.
After the operation, sclerotherapy sessions were held until the beginning of May. After their completion, a control inspection was scheduled for the fall of 2019. From the end of spring to mid-autumn, the condition of the legs changed dramatically for the better: the veins disappeared, swelling passed. At the follow-up examination and ultrasound examination in late October, Dmitry Anatolyevich noted that there were no varicose veins and that a normal and full-fledged lifestyle could be maintained. The doctor also recalled the need for preventive measures and follow-up examinations 1 once every 1,5-3 of the year.
I thought that my case would require a longer treatment. I will readily recommend laser treatment with D.A. Fedorova. Many thanks to Dmitry Anatolyevich, nurses and medical staff who worked with me. Latynov V.L., Moscow, 31.10.2019
Patient review about surgeon phlebologist Fedorov Dmitry Anatolyevich
Family Pivnenko E.A. and Honest G.N., Moscow, 25.11.2019.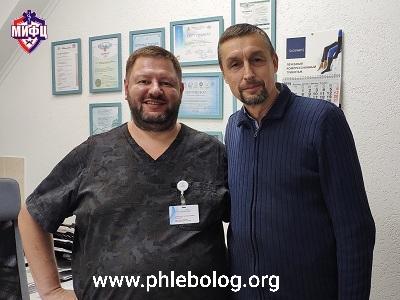 I was treated by D.A. Fedorov in the 2011 year at the age of the 54 year. Due to heredity and intense volleyball, he had significant varicose veins on his left leg. He was successfully operated by the EVLK method on his left leg, on a large saphenous vein and was observed 2 of the year.
Because I did not intend to and did not intend to quit volleyball, but the years go by (now I have 62) - I checked with Dmitry Anatolyevich at 2019 and received a recommendation for large saphenous vein on the right leg and varicose inflow on the left leg on EVLK. The operations were successful and soon I begin to recover (play).
Members of my family: my son Mikhail (36 years) was also operated on by Dmitry Anatolyevich in the 2019 year (EVLK of both legs) and now feels great; my wife Honest Galina was also operated on by Dmitry Anatolyevich in the 2019 year (EVLK of the right leg) and praises him very much for this.
We express our heartfelt gratitude from our family to the excellent competent phlebologist D.A. Fedorov and we wish him creative success, writing and defending a doctoral dissertation and good health for this! Family Pivnenko E.A. and Honest G.N., Moscow, 25.11.2019.