Branch of the Center for Phlebology "MIFTS" in Tver
consultation telephone 60-02-44 (+ 7-963-220-02-44)
Consultation and reception of a phlebologist in Tver and the Tver region
Advisory reception is conducted by the head of the Tver branch MIFTS (Moscow)
Prutensky Andrey Alekseevich - surgeon-phlebologist, endovascular and aesthetic phlebologist, expert doctor in ultrasound diagnostics of veins of the lower extremities.
Full member "Association of Phlebologists of Russia" (AFR), "National College of Phlebologists" (NKF) and "Russian Society of Surgeons" (ROH).
Phlebology Center in Tver
Tver is a regional center located between two capitals - Moscow and St. Petersburg. The proximity of these megacities in many ways negatively affected Tver healthcare. The outflow of qualified personnel, the lack of expensive specialized equipment in state medical institutions of Tver, the queue for surgical treatment, the fragmentation of the diagnostic and treatment stages are facts that cannot be denied. Our task is to provide the population of Tver and the Tver region with high-quality modern phlebological care - at the level of world standards. We work on a full cycle: diagnostics - treatment - dynamic observation - in the same hands. The patient who came to us for help can be sure that he will not be transferred "to the outpatient stage" to another specialist. We ourselves do an ultrasound of the veins, because we are sure that the correct diagnosis is the key to the success of treatment. We provide all types of assistance - advisory, therapeutic (including a wide range of operations, sclerotherapy and laser treatment of varicose veins), dispensary observation. We give a guarantee for all our activities.
Tver Innovation Phlebological Center
Working on the basis of the well-equipped multidisciplinary hospital "Doctor Fomin Clinic LLC", which consists of a modern clinic equipped with modern equipment and a round-the-clock hospital with three surgical units, allows us to treat patients of any complexity. Of course, the vast majority of patients visiting a phlebologist do not require hospitalization, anesthesia, or spinal anesthesia. However, the ability to work in operating rooms equipped to carry out large complex operations with the support of the anesthesiology group (if necessary) is a criterion of safety and concern for the patient's health.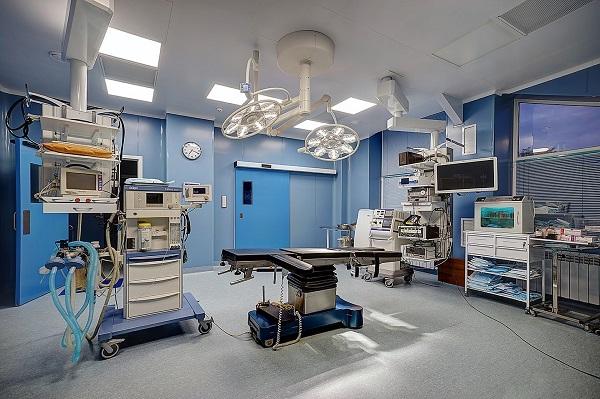 Modern operating room at our phlebology center in Tver
The use of modern ultrasound scanners optimized for operation on vessels and invasive interventions under ultrasound control, such as eSaote MyLab One, made it possible to improve the diagnostic quality by an order of magnitude and make it possible to conduct non-surgical modern methods of treating varicose veins, such as laser coagulation (obliteration) of varicose veins and echo-controlled sclerotherapy. It should be noted that all our doctors have undergone professional retraining in the specialty of "ultrasound diagnostics doctor" and are experts in venous pathology of the lower extremities.
We are for modern evidence-based phlebology!
We believe that most interventions on varicose veins can and should be performed without hospitalization in a hospital, as well as without anesthesia and spinal anesthesia. And sometimes - and without interruption from production, that is - without going on sick leave. To do this, modern safe technologies should be used, such as EVLO (endovasal laser obliteration of varicose veins), as well as non-tumescent non-thermal methods of venous obliteration.
Laser treatment of varicose veins in Tver
One of the most gentle and modern methods of treating varicose veins is laser obliteration (coagulation) of varicose veins. In fact, this is not even an operation, since the surgeon does not make a single incision. A thin laser waveguide is inserted under ultrasound control through a puncture of the skin into a varicose vein, after which tumescent anesthesia is performed, combining pain relief and protecting the surrounding tissues from overheating. As the anesthesia is done, the vein is coagulated (infused) by the method of slow drawing of a working fiber connected to a laser radiation generator. Surprisingly, the patient does not experience any pain or any other unpleasant sensations. The coagulated vein closes, and after a period of about 6 months, it completely dissolves. The laser coagulation procedure is completed by putting on medical compression hosiery and an hour's walk. That's right - from the operating room - for a walk and - to the usual life familiar to the patient. At home, not in the hospital.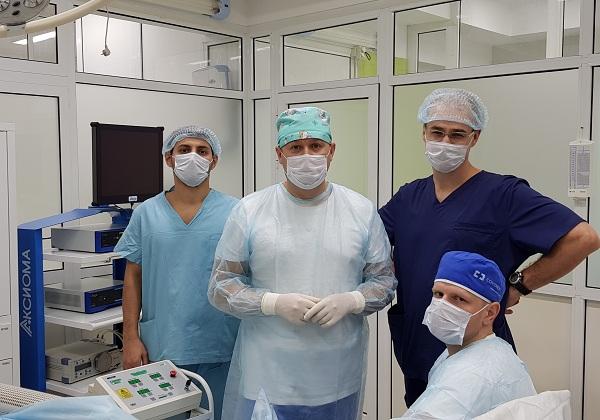 Joint work of the team of phlebologists Semenov A.Yu., Prutensky A.A. and Kalacheva I.I.
In December 2018, an agreement was signed between the Tver branch of the network of multidisciplinary medical clinics LLC "Clinic Doctor Fomin" and the Innovative Phlebology Center MIFTS under the leadership of Semenov A.Yu. on joint activities in the field of innovative phlebological assistance to residents of the Tver region. As a result, residents of the Tver region receive high-tech medical care for various venous pathologies of the lower extremities directly in Tver.
Why it is better to be treated in our modern phlebology clinic in Tver
The leading phlebologists in the cities of Moscow and Tver on the basis of the multidisciplinary medical center LLC "Clinic of Doctor Fomin" (Spartak St., 42a) conduct:
modern ultrasound diagnostics of veins of the lower extremities for varicose veins and venous thromboses,
advisory activity - on choosing the optimal tactics for treating varicose veins
treatment of varicose veins of the lower extremities.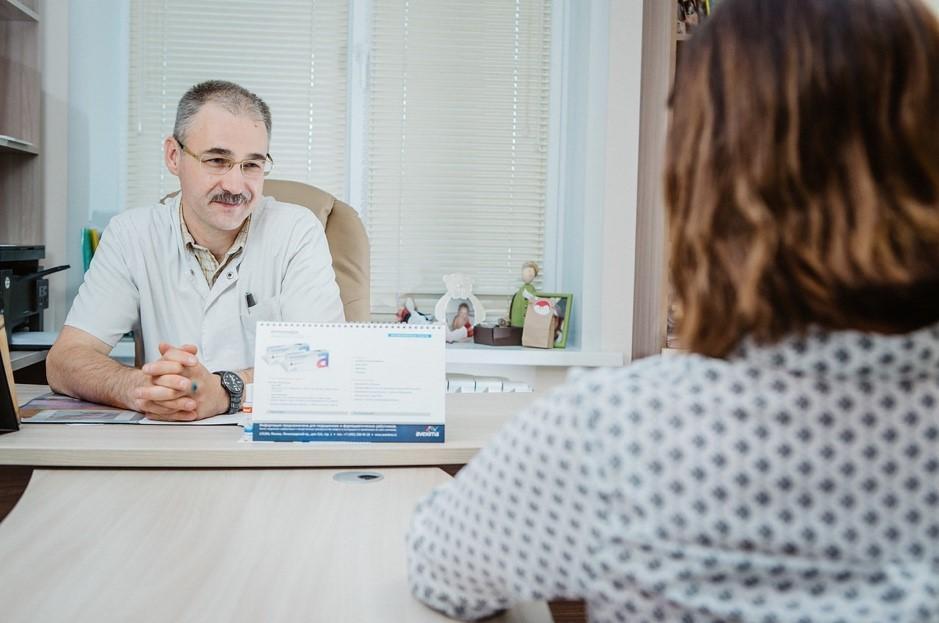 Consultation of surgeon of the phlebologist Prutensky Andrey Alekseevich in Tver
We apply the most advanced technologies for the treatment of varicose veins:
endovasal (intravascular) laser coagulation of varicose veins - according to German Biolitec technology;
non-thermal methods of venous obliteration.
In addition to laser treatment of varicose veins, we pay a lot of attention to scleroobliteration of varicose veins and spider veins. The essence of the sclerotherapy method is the introduction of a sclerosant substance into the varicose vein, uniformly filling the lumen of the vein, followed by the application of compression knitwear. As a result of the action of sclerosant on the inner surface of the vein wall and the effect of compression, the vein "sticks" and, subsequently, completely dissolves. Compression therapy using professional elastic knitwear (selected by a specialist!) Is an essential component of sclerotherapy. As sclerosants, we use Ethoxysclerol and Fibrovein, and also, according to special indications (for vascular "stars"), ozone.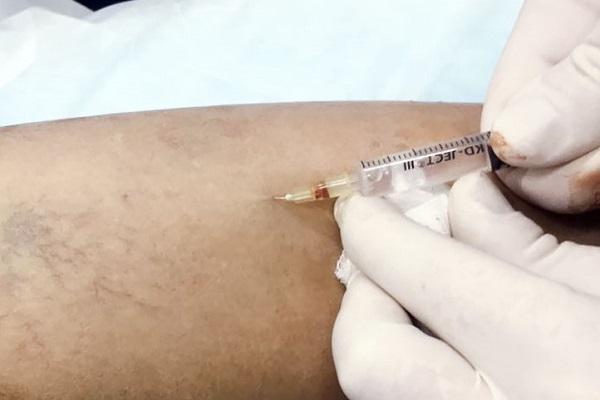 Sclerotherapy - removal of vascular "stars" in Tver
We use both liquid sclerotherapy and foam, when the sclerosant is foamed and then introduced into the lumen of a varicose vein. It has been observed that foam acts more efficiently than the liquid form of sclerosant. Sclerotherapy is a painless, safe and extremely effective method for treating varicose veins - from cosmetic defects to advanced varicose veins. The sclerotherapy technique has many nuances and options for the execution technique. All of them are in service with us. We carry out sclerotherapy both under visual control and with the use of special equipment for detecting veins - a venovisor, as well as ultrasound equipment - for ECHO sclerotherapy of varicose veins. Sclerotherapy proved to be the best in aesthetic phlebology - to eliminate "vascular asterisks".
Modern imaging devices for varicose veins
It is extremely important to understand that the value of any method of diagnosis and treatment in practice depends entirely on the qualifications of a specialist. Doctors Fomin Clinic LLC employs Moscow phlebologists from "Medical Innovation Center of Phlebology", through the hands of which for thousands of patients for many years.
Sign up for an initial consultation with the head of the branch in Tver, a phlebologist surgeon MIFTS and KDF LLC to Prutensky Andrey Alekseevich You can by t. 60-02-44 (+7-963-220-02-44)
We advise and operate at the address: Doctor Fomin Clinic LLC is located at: Tver city, st. Spartacus, 42.